Kevin Dundon's lamb cutlets kebab with garlic butter flatbreads
Ingredients
Lamb Kebabs
Serves 4
14-16 Irish lamb chops or cutlets
2 tbsp Rapeseed Oil
2 tbsp fresh thyme, chopped
2 tbsp fresh rosemary, chopped
1 lemon zest
1 garlic clove, chopped
80g young salad leaves
200g fresh peas
2-3 tomatoes, quartered
1 red onion, chopped
1 tbsp fresh mint, chopped
1 tbsp fresh parsley, chopped
50g Irish butter to baste the meat
4-8 flatbread ( see recipe below)
Garlic Butter Flatbread
Makes 8 breads
300g plain flour
2 tsp baking powder
1 tbsp. table salt
100g Irish natural yogurt
100ml water, lukewarm
30ml rapeseed oil
100ml butter, melted
2 garlic cloves, chopped
2 tbsp. parsley, chopped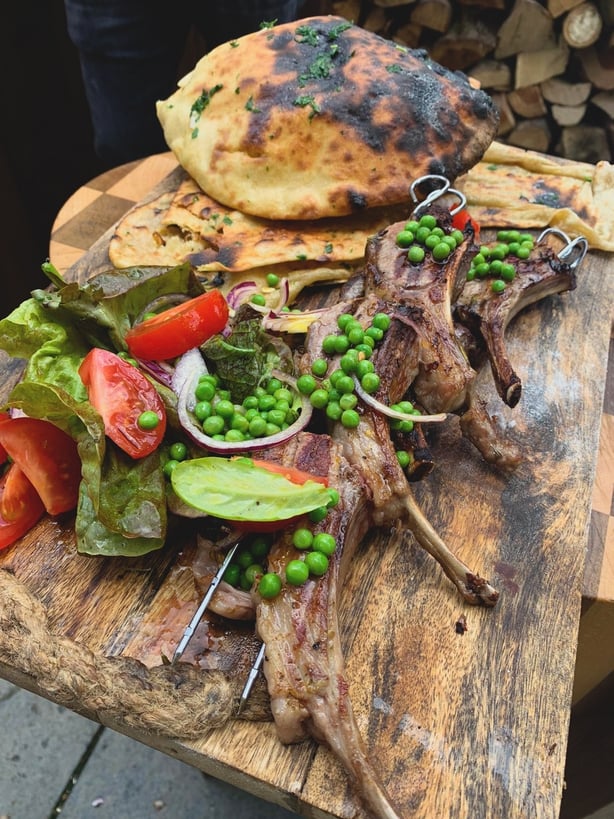 Method
Lamb Kebabs
Preheat an outdoor pizza oven or barbecue to a medium heat. Salt and pepper the meat to season.
In a small bowl, combine 1 tbsp rapeseed oil, rosemary, thyme, and lemon zest and garlic.
Add the lamb cutlets and toss to coat. Set aside to marinate for 15-20 minutes covered with a lid at room temperature if possible.
Tread the lamb cutlets on a metal skewer. Season with salt and pepper
Once the wood charcoal has a white ash coating over it is ready to barbecue.
Place the skewers on the barbecue and cook for 3-4 minutes on each side depending on the heat of the barbecue. Alternatively, roast in the pizza oven ensuring the lamb doesn't char too quickly.
In the meantime, prepare the salad.
In a bowl, combine the salad leaves, peas, tomatoes, red onion and a squeeze lemon with a dash of oil and some seasoning. Toss well and serve in a bowl on the side.
Once the lamb skewers are nearly cooked, brush the lamb with some butter and allow to infuse for another minute or so on the barbecue. Heat the flatbread over in the pizza oven and serve the lamb skewers with the salad and flat bread. Enjoy immediately.
Garlic Butter Flatbread
Preheat a Barbecue or pizza oven. Alternatively, heat a griddle pan over a medium heat once ready to cook.
Line a baking tray with parchment paper and dust lightly with flour.
In a bowl, combine the flour, baking powder, salt. Make a well and add the natural yogurt, water and canola oil.
Combine until a soft sticky dough is formed. Turn the dough out onto a lightly floured surface and divide it into 8 equal pieces. Shape each piece into balls and arrange on the baking tray. Lightly brush the dough with oil, cover with cling film, and set aside for 1 hour to settle before shaping.
In the meantime, prepare the butter mixture. In a small saucepan, warm up the butter. add the chopped garlic and chopped parsley remove from the heat and stir to combine.
On a lightly floured surface, flatten with a rolling pin or your hands each bread ball and place over on the pizza stone, barbecue or the griddle pan for 2 – 3 minutes on each side until the dough is fully cooked and slightly charred, being careful to ensure it doesn't burn.
Brush with garlic and herb butter. keep warm until needed and enjoy!