Ingredients
Serves 10
Base
300g crushed digestives
100g melted butter
40g unsweetened cocoa powder
Filling
2 tbsp chocolate spread
50g chopped hazelnuts
340g dark chocolate
240ml cream
50g butter
6 Ferrero Rocher (or similar)
Garnish
10-12 Ferrero Rocher (or similar)
2 tbsp chopped hazelnuts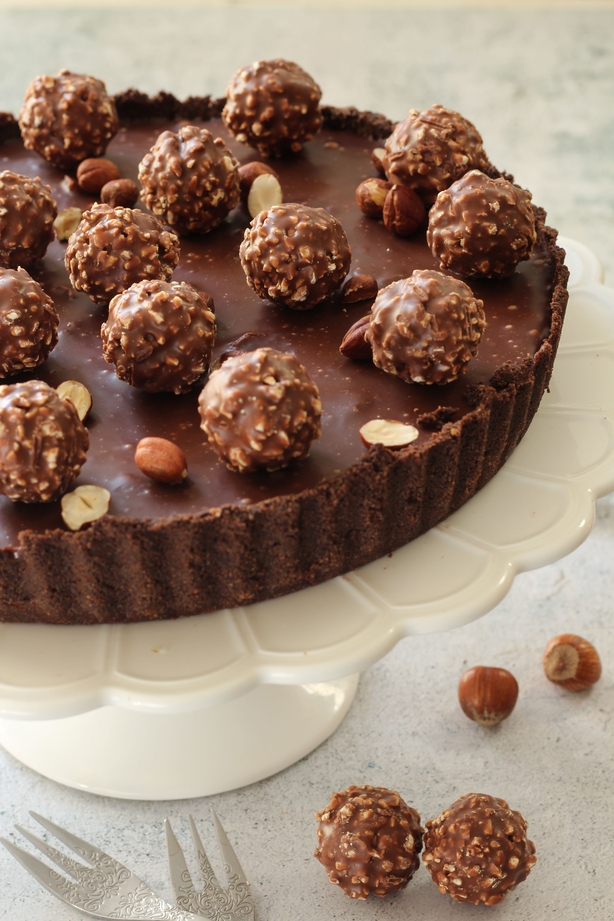 Method
Line the base of a 10" loose bottom tart ring with parchment paper.
In a bowl, mix the digestive, melted butter and cocoa powder.
Spoon this into the tin and press down covering the base and sides of the tin. Chill.
Place the dark chocolate & cream in a bowl over a pot of gently simmering water.
Stir until melted & combined, carefully remove from the heat and add the butter and mix.
Finally break up 6 Ferrero Rocher and stir through the chocolate mix.
To assemble, spread the chocolate spread and chopped hazelnuts over the base of the chilled tart.
Spoon the chocolate Ferrero Rocher filling on top and chill for a minimum of 4 hours.
To serve, top with more Ferrero Rocher and chopped hazelnuts and a spoon of semi whipped cream.
Note: Take the tart out of the fridge 30 minutes before you serve.