Watch Donal's Family Food in Minutes on RTÉ One, Wednesdays at 8:30pm.
Ingredients
Serves 4
Takes 50 minutes
4 tbsp olive oil
2 garlic cloves, finely sliced
700g passata
75ml dry white wine
1 tsp dried oregano
1 tsp dried red chilli flakes
Sea salt and freshly ground black pepper
For the meatballs
250g good quality minced beef
250g good quality minced pork
100g pancetta, finely chopped
1 onion, finely chopped
3 cloves garlic, grated
50ml buttermilk
50g breadcrumbs
1 tbsp dried oregano, chopped
A small handful of fresh parsley, finely chopped
1 large free range egg, lightly beaten
50g parmesan cheese, finely grated.
Sea salt and freshly ground black pepper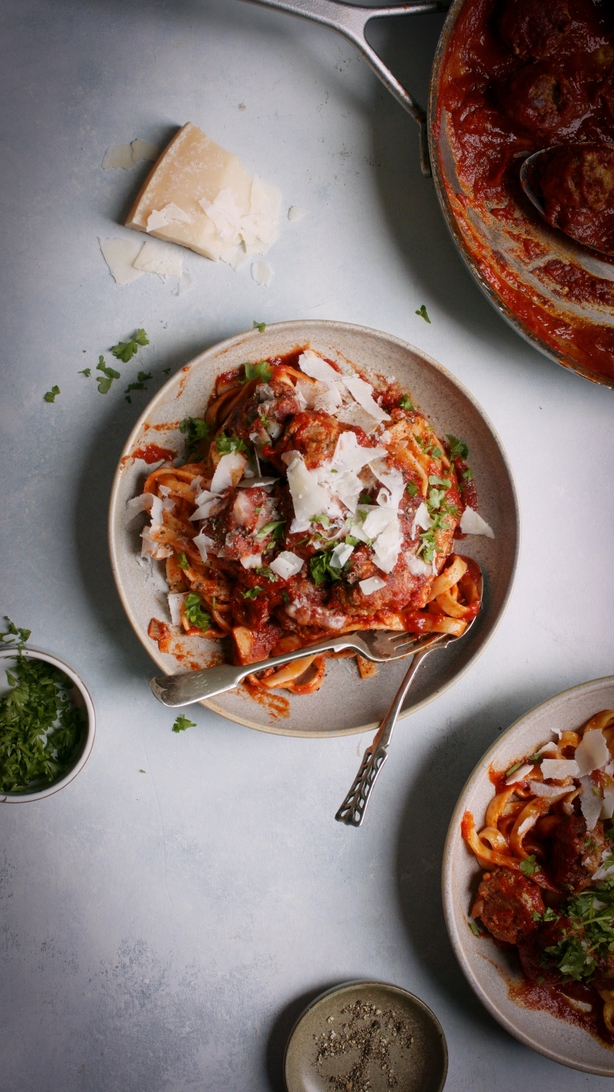 Method
In a large mixing bowl, combine all the ingredients for the meatballs. Season with salt and pepper and mix until completely and evenly combined.
Form 32 golf ball sized meatballs by rolling them in your hands. Transfer to a large baking sheet.
Keeping a small bowl of cold water for dipping your hands in after each meatball will prevent things getting too sticky if needed.
Repeat with the remaining mixture, cover and leave in the fridge to firm up for 30minutes.
Place a large frying pan over a medium high heat and add a good glug of olive oil. If all the meatballs don't fit in the pan at once, fry the meatballs (in batches if necessary) until browned on all sides, this will take 8-10 minutes, and then transfer to a plate lined with kitchen paper.
Heat the rest of the oil in the pan and add the garliC and slowly simmer until just golden but not browned.
Pour in the passata and white wine and stir through. Season with dried oregano,chilli flakes, salt & pepper. Bring to a steady simmer and allow to cook for 5-6 minutes before adding the meatballs to the pan and gently turning to coat them inthe sauce with a tablespoon.
Cover the pan with a lid and simmer for 20 minutes then remove from the heat and allow to cool completely.
To serve, mix some of the sauce through the tagliatelle, serve into bowls topped with the meatballs and plenty of grated parmesan.