Watch Donal's Family Food in Minutes on RTÉ One, Wednesdays at 8:30pm.
Ingredients
Serves 8
Takes 1 hr 15 minutes plus cooling
250g icing sugar
4 large free range egg whites
2 tsp cornflour
1 tsp white wine vinegar
1 tbsp cocoa powder
For the filling & topping:
750ml cream, whipped
2 tbsp icing sugar, sifted
2tbsp cold strong espresso
500g jar of cherries in syrup
125g fresh cherries
100g dark chocolate, thick shavings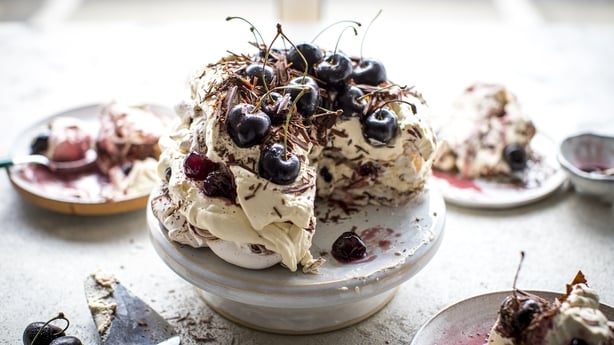 Method
Preheat the oven to 150˚C/fan 130C. Line two baking trays with baking parchment.
Place the icing sugar and egg whites in a standing food mixer and whisk on high for 10 minutes until glossy white peaks form.
Using a spatula, gently fold in the cornflour and the white wine vinegar until incorporated followed by the cocoa powder. Divide the meringue mixture between the two baking trays and using a tablespoon, form two large meringue discs, creating soft peaks and swirls.
Dust with a little more cocoa powder. 
Bake for 45 minutes, allow to cool completely with the door slightly ajar. 
Once the pavlovas have cooled completely whip the cream with the icing sugar until quite firm, make sure not to over-whip it, then fold through the coffee.
Drain the cherries, holding back the syrup to drizzle over at the end if you wish. 
To assemble the pavlova, place a layer on a cake stand and top with half the cream and cherries. Add the next layer of meringue and then top with the remaining cream. Decorate with the remaining cherries, fresh cherries and  chocolate, serve straight away.