A show-stopper for your Christmas table.
Ingredients
Makes 1 tree to share
To serve: 4 - 6
1 (400g) packet ready rolled puff pastry of 2 sheets
4 tablespoons pesto
100g mature cheddar
1 egg wash (made of 1 egg yolk and 1 tbsp. milk)
2 tbsp sesame seed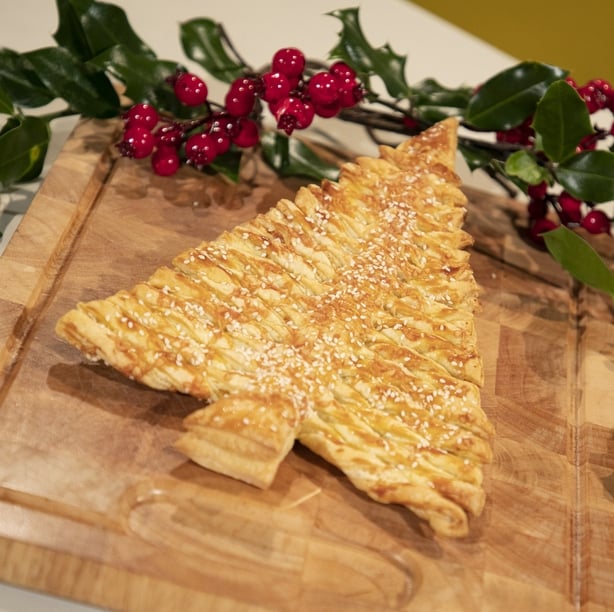 Method
Preheat the oven to 190˚C. Line a large baking tray with non-sick parchment paper.
Roll out the two sheets of puff pastry on a lightly floured surface. Cut through a large triangle and place this triangle on the second pastry to use as a template to cut the second and matching triangle.
Remove both and place one of the triangle on the baking tray. Brush with egg wash all around and spread with pesto and cheese and, leaving 1cm from all edge clear.
Place the second layer of puff pastry and gently press on edge to seal.
Next, with a sharp and long knife, create the tree trunk or base.
Leave about 2-3 cm at the bottom of the puff pastry base. cut along to show the trunk remove the 2 band of excess puff pastry.
Now create the branches: Gently with your knife, score every 1 cm along the lines of the triangle first then begin cutting carefully.
Press the blade into the pastry rather than sliced so that it doesn't tear the pastry.
Finally, twist the pastry away from you, trying to get in two turns on the lower branches.
Continue moving up the tree, twisting away from you as you go.
Brush the entire tree with some extra egg wash and sprinkle some sesame seeds
Bake in the preheated oven for 15-17 minutes or until golden brown.
Enjoy warm or cold. If done in advance, warm in a preheat oven for 5 minutes.