Made with plant-based milk, nut butter and no eggs, these gorgeously gooey brownies are vegan-friendly and easy to make.
Ingredients
Makes: one 20x20cm tin
275ml plant-based milk, any sort
150ml groundnut or walnut oil
2tsp vanilla extract
2tbsp ground flax seeds
60ml hot water
125g plain flour
125g cocoa
½tsp baking powder
100g light soft brown sugar
75g caster sugar
½tsp salt
150g vegan chocolate chips
100g nut butter, any sort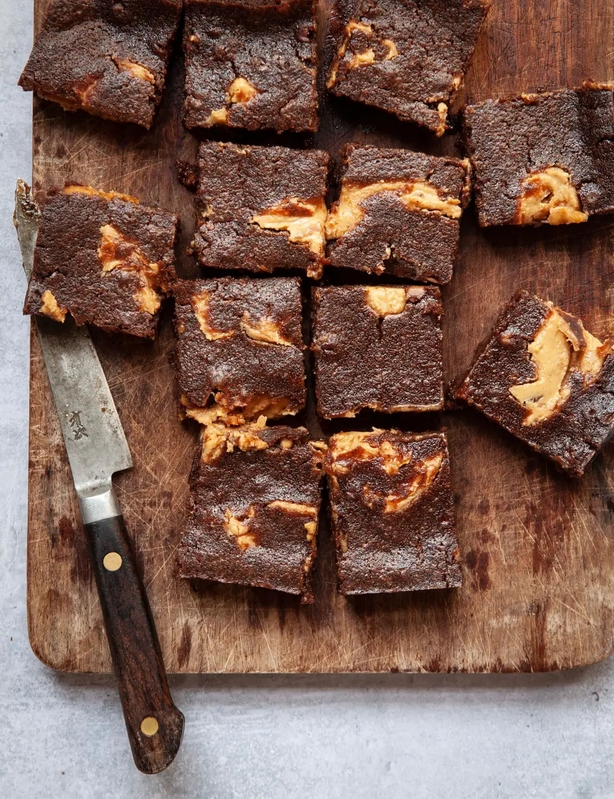 Method
Preheat the oven to 180°C/Fan 160°C/Gas 4. Line a 20 x 20cm brownie tin with baking paper or brush with cake-release spray.
Whisk the milk, oil and vanilla extract together in a bowl and set aside. Mix the ground flax seeds with the hot water and leave to stand for five minutes. Whisk all the remaining ingredients, except the chocolate chips and the nut butter, together in a separate bowl.
Beat the flax seeds into the wet ingredients, then add the dry mixture and fold in as gently as you can. Add the chocolate chips.
Scrape the mixture into the prepared tin. Dot spoonfuls of the nut butter all over the batter, then swirl it through, using the tip of a knife. Don't mix it up too much!
Bake for 20–25 minutes until the brownies have just set. Leave to cool completely, then cut into squares. If you want them extra fudgy, put them in the fridge for several hours. Otherwise transfer to an airtight container.
The Hairy Bikers' Veggie Feasts by Si King and Dave Myers, photography by Andrew Hayes-Watkins, is published by Seven Dials.