Watch Donal's Family Food in Minutes on RTÉ One, Wednesdays at 8.30pm.
Ingredients
Serves 12
Takes 20 minutes plus chilling
300g butter
200ml golden syrup
300g dark chocolate (good quality, at least 60% cocoa), broken into pieces
200g digestive biscuits, roughly broken
250g rich tea biscuits, roughly broken
100g Maltesers, or similar
100g mini marshmallows
For the glaze
100g dark chocolate (minimum 60% cocoa)
25g unsalted butter
50g icing sugar, sifted
75ml double cream
Hundreds and thousands to decorate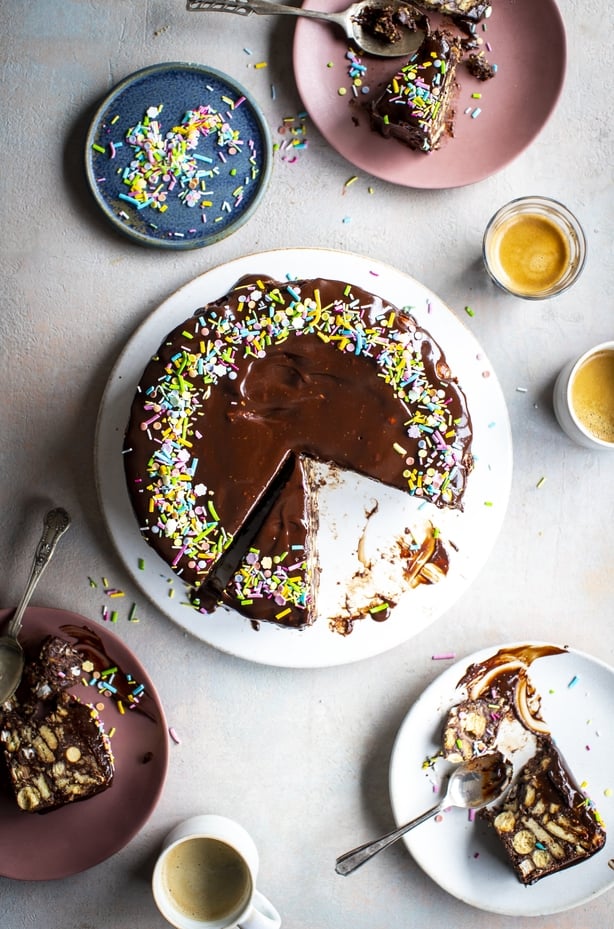 Method
Grease and line a 20 cm/8" round cake tin. 
Melt the butter, syrup and chocolate in a pan over a low heat. Stir to make sure all the ingredients are well mixed together. Allow to cool a little before stirring through the biscuits, maltesers and marshmallows and stir well to combine evenly.
Spoon into the prepared tin. Level it on top and press down well to avoid air bubbles. Cover and leave in the fridge for at least 4 hours until solid and set.
Once the cake has almost set, make the glaze. Melt the chocolate and butter in a small pot, when melted, remove from the heat, whisk in the icing sugar and the cream.
Allow to cool until the mixture becomes thick enough to leave a figure of eight on the surface. Pour over the cake and leave to set at room temperature before cutting.