Watch Donal's Family Food in Minutes on RTÉ One, Wednesdays at 8.30pm.
Ingredients
Serves: 4
Takes 40 minutes
3 tbsp olive oil
300g italian sausage or herb sausage, thickly sliced
6 boneless, skinless chicken thighs, cut into 2cm pieces
2 red onions, finely sliced
2 cloves garlic, finely sliced
1 red pepper deseeded and sliced
2 sprigs rosemary
150ml white wine
2 tsp white wine vinegar
300g new potatoes, halved
250ml stock
75g pickled peppers such as peppadew or guindilla
Handful flat-leaf parsley, chopped, to serve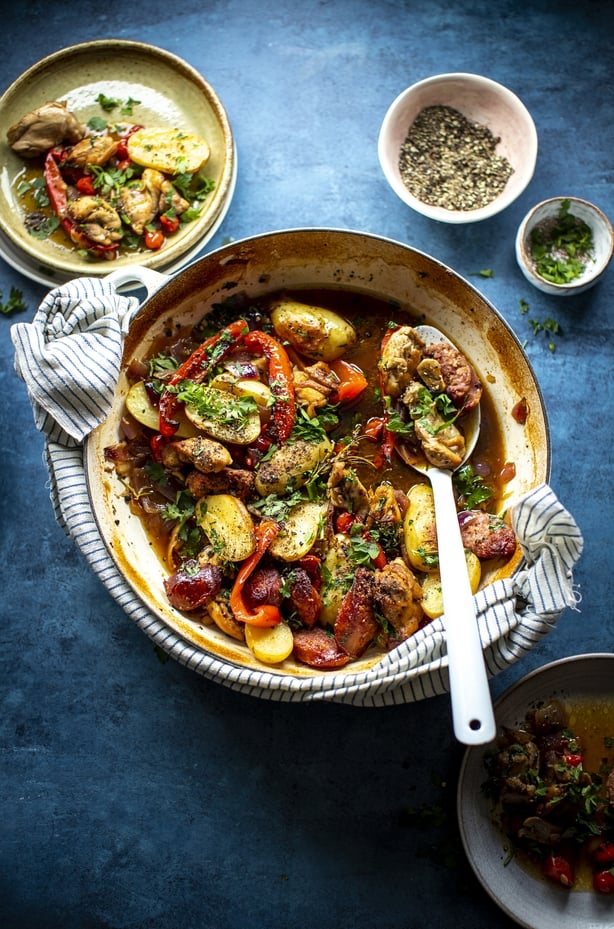 Method
Heat the oven to 180°C. Heat a large ovenproof pan over a high heat. Add the sausage and chicken, turning to brown all over. Remove from the pan and set aside.
Add the onion, garlic and pepper to the pan and cook for 5 minutes until softened a little. Add the rosemary, white wine and vinegar, bubble for a minute then put the chicken and sausage back in the pan. Add the potatoes, stock and pickled pepper.
Season well and put in the oven to cook for 20 minutes until the chicken is cooked and the sauce has thickened a little. Serve scattered with parsley.