A perfect after-dinner treat.
Ingredients
"Soft amaretti, or amaretti morbidi in Italian, are like little cakes and are not to be confused with the hard, crispy variety of amaretti," explains Italian chef, Gennaro Contaldo. "Made with ground almonds, they are gluten-free (although always check the packet) and are obtainable in Italian delis or in larger supermarkets.
"They are delicious eaten on their own; filled with a rich, creamy centre, they also make a lovely, quick dessert. If you can't find raw pistachios, substitute with walnuts, chocolate chips, candied fruit, or a combination, if desired."
Ingredients:
Makes 12–24 (depending on size!)
20g raw pistachios
75g cup ricotta
75g cup mascarpone
15g caster sugar
3tsp Marsala wine, plus extra for brushing
20–24 soft amaretti biscuits
A little icing sugar, for dusting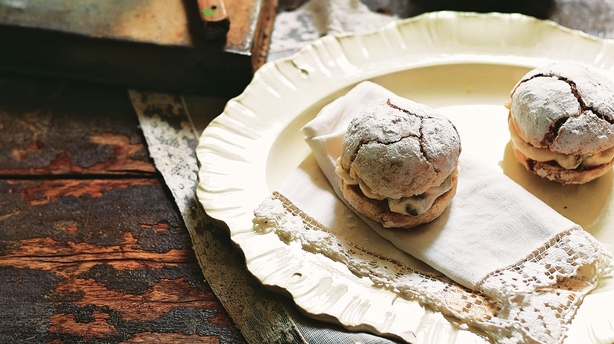 Method
Method:
1. Toast the pistachios in a dry frying pan set over a medium–high heat for a couple of minutes, until lightly toasted. Remove and set aside.
2. Meanwhile, whisk together the ricotta, mascarpone, sugar and Marsala wine in a bowl, until light and fluffy. Finely chop the pistachios and stir in. Cover with cling film and place in the fridge.
3. Using a really good, sharp knife, slice the amaretti horizontally in half, so you end up with a bottom and top of each little cake, keeping any crumbs. Brush each slice with a little Marsala.
4. Take the creamy mixture out of the fridge and stir in the amaretti crumbs. Place a dollop of the cream on the bottom slice of the amaretti and sandwich together with the top half. Arrange on a plate and dust with icing sugar, to serve.
Gennaro Contaldo's Fast Cook Italian by Gennaro Contaldo, photography by Kim Lightbody, is published by Pavilion Books. Available now.