You won't be able to get enough of this bbq pulled pork.
Ingredients
Families across America are gearing up for their Fourth of July celebrations today, which means a whole lot of cookouts and plenty of grub.
Feeling left out? Here's a showstopper of a low-and-slow-cook dish to crown your own Independence Day party (stars and stripes bunting, optional).
French's BBQ Pulled Pork Sloppy Style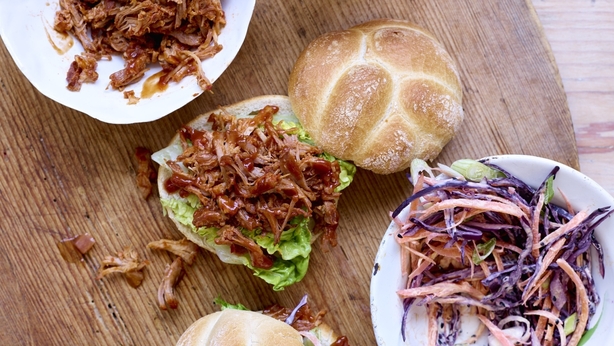 Ingredients:
(Serves 6)
1.2kg pork shoulder
1tbsp olive oil
4tbsp BBQ Sauce
Salt
For the gravy:
1 onion, finely chopped
Oil, for frying
2tsp gravy granules
150ml boiling water
3tbsp BBQ Sauce
For the slaw:
Half a small red cabbage, shredded
1 small carrot, shredded or grated
2 spring onions, sliced
1tsp black onion seeds
2tsp Yellow Mustard
1tbsp crème fraiche
To serve:
Lettuce
Crusty baps
Gherkins and chilli slices (optional)
Method
1. Preheat the oven to 200C/Fan 180C/Gas mark 6. Place the pork in a roasting tin, rub in the olive oil and sprinkle with salt. Roast for 30 minutes then reduce the oven temp to 150C, brush two tablespoons of BBQ Sauce all over and cook for another two and a half hours. Cover with foil and leave to rest for 30 minutes, then pull apart using two forks. Stir in the last two tablespoons of BBQ sauce.
2. For the gravy, heat some oil in a pan and fry the onion for 10 minutes until softened. Add the gravy granules and 150ml boiling water, then stir over a low heat until thick. Remove from the heat and stir in the BBQ Sauce, keep warm.
3. To make the slaw, combine the cabbage, carrot, spring onions and seeds in a large bowl. Mix together the Yellow Mustard and crème fraiche and stir into the cabbage.
4. Split the baps, top with the lettuce, some pork, slaw, gherkins and chilli, and serve the hot gravy alongside.