The ultimate comfort food.
Ingredients
Serves 6
Mac & cheese
250g macaroni or any small pasta
1 small onion diced
150g chopped smoked bacon
50g plain flour
50g butter
500ml milk
1 tablespoon Wholegrain or Dijon mustard
200g grated red cheddar or any cheese or your choice
4 scallions chopped
Salt & pepper
Topping
100g breadcrumbs
50g melted butter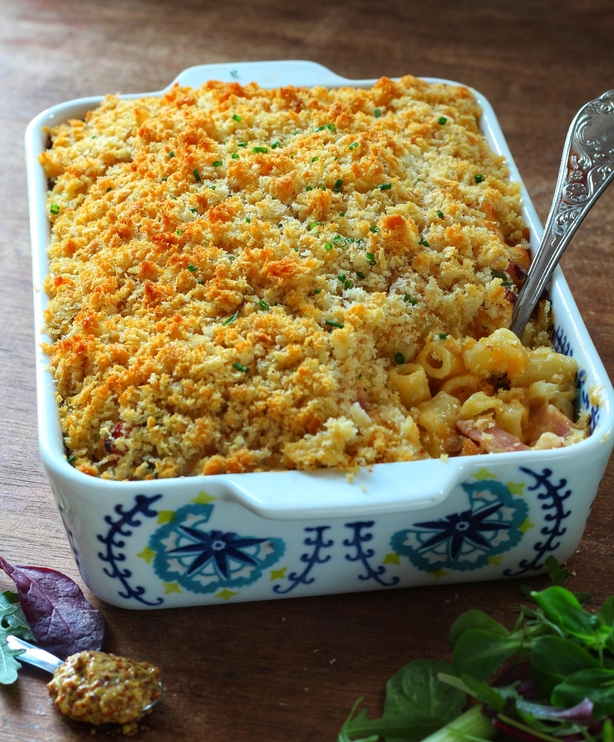 Method
Preheat your oven to 200ºC/180ºC Fan
In a medium pot, boil the pasta for two minutes less than the cooking instructions, drain and set aside.
In a frying pan, slowly cook the onions and bacon until the onions are soft and bacon is cooked, put to one side until needed.
Melt the butter in a pot and add the flour, stir to combine. Slowly add the milk whisking to remove lumps. Continue to do this until all the milk is added. 
To this add the mustard and the grated cheese and stir until the cheese is melted.
Fold in the pasta, bacon, onions and the scallions. Check for seasoning.
Place all of this into a oven proof baking dish.
For the topping, melt the butter and mix with the breadcrumbs. Spoon this over the top and bake in the preheated oven for 25 minutes or until golden brown.