Catherine Fulvio's Hazelnut Meringue with Summer Berries from Tastes Like Home.
Ingredients
Serves: 2 individual medium-sized or 1 large meringue
For the meringue:
6 large egg whites
300g caster sugar
1⁄2 tsp cream of tartar
1 tsp vanilla extract
60g toasted chopped hazelnuts
For the filling:
200ml cream
150g mascarpone
4 tbsp icing sugar
Zest of 1 lemon
Juice of third of the lemon
For the berry coulis:
200g strawberries
200g raspberries
75g caster sugar
Zest of 1 lemon
Arrowroot to thicken
To decorate:
100g blueberries
150g raspberries
150g strawberries, sliced
Edible flowers, lemon balm and a few sprigs of rosemary, to finish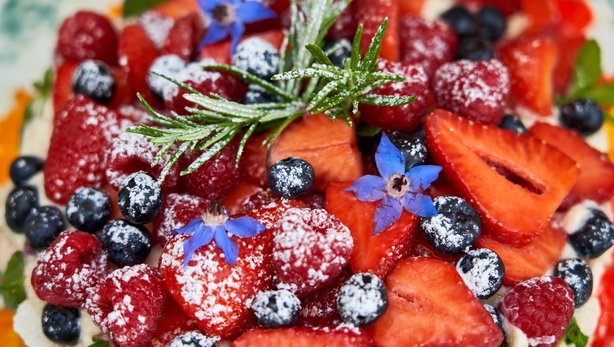 Method
For the meringues:
Preheat the oven to 120°C/fan 100°C/gas 1. Line 2 x 23cm loose base springform tins with parchment paper.
Place the egg whites in a clean, dry bowl, whisk until stiff but not dry. Gradually whisk in the caster sugar, a tablespoon at a time. Beat in the vanilla, the cream of tartar and most of the chopped hazelnuts.
Divide the meringue mixture into the two tins ensuring they are level on top, scatter the remaining hazelnuts over and place into the preheated oven.
Bake for 2 hours until set. When they're done, leave them in the oven with the oven door slightly open so that the meringues can cool.
For the coulis:
Place the strawberries and raspberries into a saucepan with sugar. Set over a medium heat. Crush with a wooden spoon or fork until the sugar has dissolved and the berries broken down.
At this point, taste and add a little more sugar, depending on the acidity of the berries.
Strain through a sieve, then return to the saucepan, adding in the zest of lemon and thickening lightly with the arrowroot (the arrowroot get mixed with a little cold water and then added to the coulis and heated through).
Set aside and allow to cool fully
For the cream filling:
Whisk the cream, mascarpone, lemon zest, juice and icing sugar until firm peaks. Then swirl in about 1/4 of the coulis (keeping some pink streaks in the cream mix).
To assemble: place each on a serving platter, spoon the berry cream mix over, top generously with the fresh fruit and decorate with the fresh herbs and edible flowers.
Serve the remaining coulis on the side.
Tip: the tidiest method to drizzle the coulis is to fill a disposable piping bag and snip a tiny piece from the tip, thus giving a light drizzle for decorating.