Catherine travels to Osijek, Croatia to learn how to cook an iconic Croation dish 'Sarma'.
Ingredients
Serves: 6
1 bigger sour cabbage (about 1 kg) - sour cabbage type of cabbage popular in Croatia
300 g smoked meat (bacon & ribs or any other selection of cuts roughly chopped)
400 g sour cabbage (finely chopped)
2 laurel leaves = 2 Bay Leaves.
1 teaspoon mixed ground black pepper
Ingredients for the Stuffing
2 tablespoons oil
200 g onion (finely chopped)
30 g bacon (finely chopped)
800 g minced meat (pork and beef) = 400g pork + 400g beef (800g in total)
4 cloves garlic (finely chopped)
1 egg
80 g rice Type - White Rice
100 ml water
1 teaspoon ground sweet pepper
1/2 teaspoon black pepper
1 teaspoon salt
Ingredients for the Roux
3 tablespoons oil
1 tablespoon flour
1/2 teaspoon ground sweet pepper
1 tablespoon tomato paste
300 ml water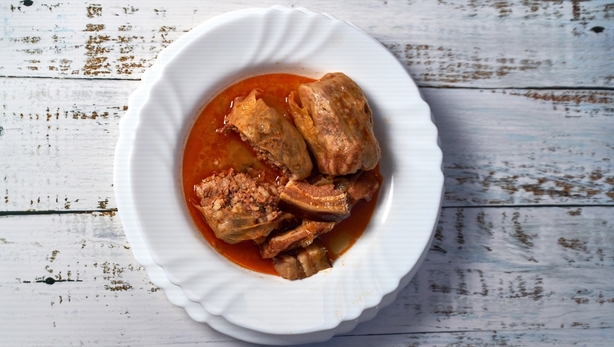 Method
Sauté finely chopped onion and bacon in heated oil.
Add minced meat, garlic, an egg, rice, water, ground sweet pepper, salt and black pepper. Stir well.
Separate cabbage leaves from the root and cut off hard parts. Rinse under water.
Add meat mixture to one leaf, roll and push the ends towards the middle.
Take the half of chopped cabbage and spread it on the bottom of a pot. Spread smoked meat on top of the cabbage. Arrange the rolls circularly on top of everything, add laurel and black pepper and cover everything with the remaining chopped cabbage.
Pour enough water to cover the cabbage and put on the stove to cook. When it boils, lower the heat and let simmer for 2 hours.
For the roux, sauté flour on oil until it becomes light brown. Stir constantly, and slowly add sweet ground pepper, tomato paste and water.
Add the roux to sarma and stir well. Let simmer for a little longer. Serve sarma with mashed potatoes.