This Halloween smoothie is creamy, cool and citrusy. A perfect breakfast or snack for all those Halloween trick or treat-ers.
Ingredients
1 frozen banana
250 mls orange juice
250g pot of vanilla yogurt / orange yogurt
1 tsp orange blossom / zest half orange
2 tsp vanilla
drop of yellow and orange food colouring
Optional: 1 orange peeled and chopped up

Equipment
Food Processor / liquidizer
Chopping board
Measuring cups
Method
How to Do It
Freeze the banana for a few hours before you need it.
Weigh out the ingredients and pop them in the blender.
Blitz, pour and serve.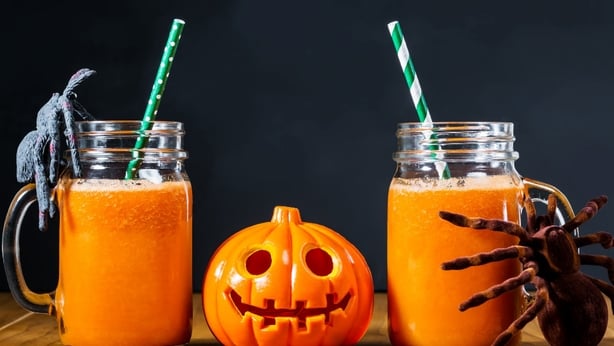 Top Tips 
The frozen banana is the genius part of this recipe. It adds a brilliant creamy texture to the smoothie without having an overpowering taste of banana. The combination of vanilla and orange is reminiscent of the iconic ice pop the 'Super Split'.
To really amp up the flavour the orange zest or orange blossom are great in this Halloween smoothie.
The only thing you will need is some food colouring to really boost the flavour and have it looking that vibrant spooky orange colour.
This smooth, creamy, orange smoothie is an unusual twist on a smoothie but one the kids will love.