This is a little gem. The tartlets are also delicious with just a spoonful of raspberry jam and a blob of cream. Try to use shallow tartlet tins and you'll need the best quality ground almonds you can find.
Ingredients
Serves 12, makes 24 tartlets of 2 x 18cm (7 inch) tarts
For the tart
110 g (4 oz) soft butter
100 g (4 oz) caster sugar
110 g (4 oz) ground almonds
For the redcurrant glaze
350 g (12 oz) redcurrant jelly
1 tablespoon lemon juice or water (optional)
For the filling
whichever ripe fruit is in season, such as fresh raspberries or loganberries, halved
strawberries, redcurrants, blackcurrants, poached rhubarb or sliced fresh peaches
or nectarines, peeled and pipped grapes or blueberries
300 ml (10 fl oz) whipped cream
To garnish
lemon balm or rose geranium leaves (Pelargonium graveolens), to garnish
To make an apricot glaze
350 g (12 oz) apricot jam
juice of half a lemon
2 tablespoons of water
Method
Preheat the oven to 180˚C/350°F/Gas Mark 4.
To make the tart cream the butter, add the sugar and ground almonds but don't overbeat. Put a teaspoon of the mixture into 24 patty tins or divide the mixture between two 18cm (7 inch) sandwich tins. Bake for 20–30 minutes or until golden brown. Cool them for about 5 minutes before removing from the tins. Do not allow to set hard or the butter will solidify and they will stick to the tins. If this happens, pop the tins back into the oven for a few minutes so the butter melts and then they will slide out easily. Leave to cool on a wire rack.
To make the redcurrant glaze, melt the redcurrant jelly in a small stainless steel saucepan and add the liquid if necessary. Stir gently, but do not whisk or it will become cloudy. Cook it for just 1–2 minutes or the jelly will darken. Store any leftover glaze in an airtight jar and reheat gently to melt it before use. The quantities given above make a generous 300 ml (10 fl oz) glaze.
Just before serving, arrange the raspberries, loganberries or other selection of fruit on the base. Glaze with redcurrant jelly. Decorate with rosettes of whipped cream and garnish with tiny lemon balm or rose geranium leaves.
Note: Use shallow tartlet tins and best quality ground almonds.
* If you are using yellow or green fruit use apricot glaze (see recipe) instead of redcurrant jelly.
For the apricot glaze, in a small stainless steel saucepan, melt the apricot jam with the juice of half a lemon and 2 tablespoon water, enough to make a glaze that can be poured. Push the hot jam through a nylon sieve and store in a sterilised airtight jar. Reheat the glaze to melt it before using. The quantities given make a generous 300 ml (10 fl oz) glaze.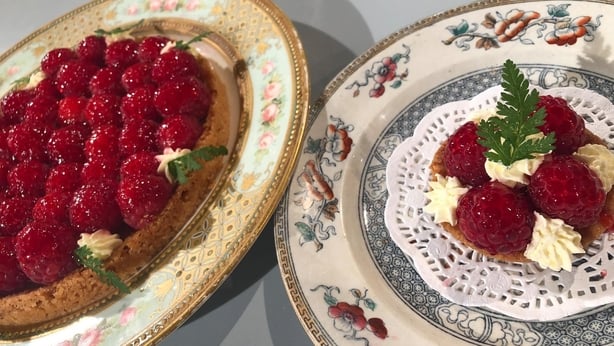 Recipes by Darina Allen from Darina Allen's 'Simply Delicious: The Classic Collection' published by Kyle Books.