Fresh Pasta with Lemon, Prawns and Chilli from Donal's Meals in Minutes.
Ingredients
Hands-On Time: 5 Minutes
Cooking Time: 5 Minutes
Serves: 4
400g fresh egg pasta such as tagliatelle
Drizzle of extra-virgin olive oil
2 tbsp unsalted butter
2 garlic cloves
300g raw peeled prawns
Good pinch of chilli flakes
Juice of ½ lemon
70g bag of baby spinach or watercress
Black pepper
Grated Parmesan, to serve
Method
Before you start, bring a large saucepan of salted water up to the boil.
Add the pasta to the saucepan and cook for 2–3 minutes until just cooked, then drain and toss with the extra-virgin olive oil.
Meanwhile, melt the butter with some extra-virgin olive oil in a large frying pan and when foaming, slice the garlic and add it to the pan along with the prawns and chilli flakes. Cook, stirring, over a high heat until the prawns are pink all over – this should take about 3 minutes.
Add the cooked pasta to the pan with the spinach or watercress and toss with the prawns. Add a squeeze of lemon juice and plenty of black pepper.
Serve with a little grated Parmesan over the top.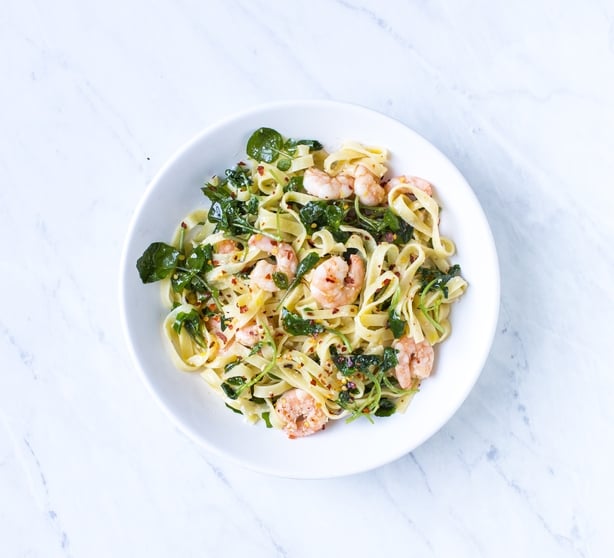 Nutritional Values
KCALS: 424
FAT: 10g
SAT FAT: 5g
CARBS: 55g
SUGARS: 0.1g
FIBRE: 4g
PROTEIN: 26g
SALT: 0.47g