A little piece of heaven...
Ingredients
If I had to pick a turning point in my opinion of vegan food, it would be shortly after I turned 27, when I was living in LA. Through a series of events that only make sense when you're a struggling actress who really should have gone home months ago, I found myself meeting a friend of an acupuncturist I had been to back in Dublin.
Stella had lived in LA for over 20 years and is a raw vegan. At the time it was like another world I had no clue about. I couldn't even begin to imagine what her day-to-day diet might have looked like. She suggested we meet in Café Gratitude, which is a famous west coast vegan restaurant. The excellent documentary May I Be Frank centres on one of their eateries.
I perused the menu, not really sure what to order, when a raw chocolate smoothie caught my eye. When it arrived, I took one sip and something very strange and unexpected happened. It tasted rich, creamy, thick, chocolatey and like a total indulgence. Were we not in a place so virtuous, I would have assumed it was 'bad' for me. It tasted like heaven and I returned for it several times afterwards.
This smoothie piqued my interest in vegan cuisine and I've never turned back. This was the moment when I felt that food could be delicious as well as healthy – it essentially started the domino effect that led me to where I am now. I make my own version of it at home and I think you'll agree that it's gorgeous!

Serves 2
1 banana
½ ripe avocado, peeled and stoned
5 Medjool dates, pitted
350ml plant milk
2 tablespoons raw cacao powder, plus extra for dusting
1 tablespoon lucuma powder (optional, but it makes it taste like caramel)
½ teaspoon vanilla extract
4 ice cubes (omit if using frozen avocado or banana)
maple or agave syrup, to sweeten (optional)
fresh mint, to garnish (optional)
Method
Put all the ingredients except the mint in a high-powered blender and blitz until smooth. 
I have come to really like the bitterness of raw cacao, so I usually add a dusting of it to the top of a smoothie. If you prefer a sweeter flavour, a little drizzle of maple or agave syrup over the top looks and tastes gorgeous. Top with fresh mint (if using).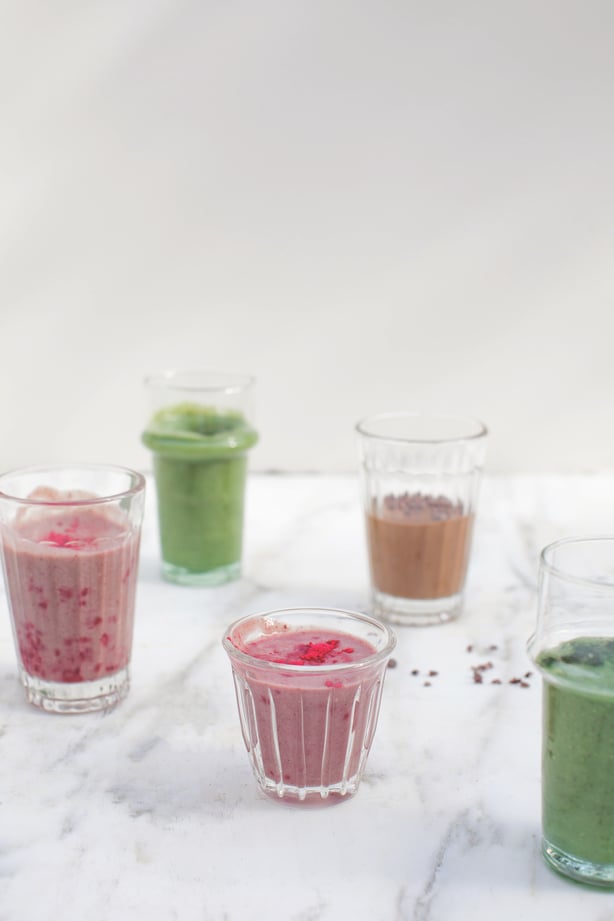 TIP:
If you're using frozen avocado or banana, take them out of the freezer and allow to thaw for a few minutes while you prep your other ingredients, as they can be hard on the blades of your blender.