When I first transitioned to a plant-based diet, it was summer and light dishes felt nourishing. As I moved towards the colder months, though, I really craved comfort foods that would be warming and satisfying. This shepherdless pie ticks all the boxes.
Ingredients
Serves 6
1 vegan stock cube
olive oil, for frying
100g button mushrooms, quartered 3 large carrots, chopped
2 medium onions, chopped
3 garlic cloves, minced
200g dried black or green lentils, rinsed; or 2 x 400g tins of green or black lentils, drained and rinsed
1 x 400g tin of chopped tomatoes
a handful of chopped walnuts (optional)
300g frozen petit pois or peas
1 dessertspoon miso paste
sea salt and freshly ground black pepper
For the mash topping:
1kg potatoes, peeled and diced
1 garlic clove, minced
250ml unsweetened plant-based milk 1 tablespoon olive oil, plus extra for drizzling
1 tablespoon nutritional yeast (optional)
Method
First, dissolve the stock cube in 250ml of just-boiled water. Set aside.
Heat a little olive oil in a frying pan set over a medium heat. Add the mushrooms, carrots, onions and garlic and sauté for 8 minutes, until they are beginning to soften. Add the lentils, tinned tomatoes, walnuts (if using) and stock and simmer for 20 minutes.
Meanwhile, steam or boil the potatoes for about 20 minutes, until soft. Drain and place in a large bowl with the garlic, milk, olive oil and nutritional yeast (if using). Mash until smooth with a potato masher or use a hand-held blender.
Preheat the oven to 180°C.
To finish the filling, stir in the frozen peas and miso paste. Taste it at this stage to ensure you're happy with the flavour and season with salt and pepper if you think it needs it. 
Pour the filling into a baking dish. Top with the mash and add a drizzle of olive oil. 
Bake in the oven for 30 minutes. For the last 3 minutes, put it under the grill to crisp up the mash topping. It will be piping hot, so allow it to sit for at least 10 minutes before serving on warmed plates.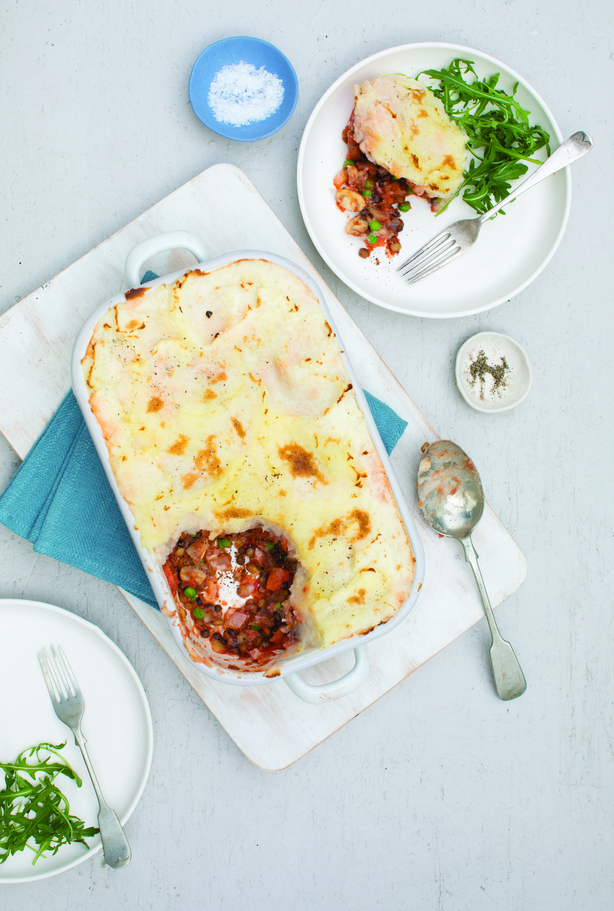 Top Tips:
The walnuts are optional, but they add an almost chewy texture. 
If you happen to have a bottle of red wine open, adding a splash to the filling would make it even more tasty.
You can make this pie in advance or freeze it – just allow it to defrost completely before cooking in the oven for 30 minutes.