As we move towards Summer our bodies adjust automatically to light and vibrant food cravings. That makes this recipe the perfect food to ease us into the summer of 2018.
Ingredients
Roasted Veggie Goats Cheese Salad
Serves 6
3 Sweet Potatoes
2 Carrots
2 Parsnips
½ Butternut Squash
2 Red Onions
4 Shallots
4 Cloves Garlic
2 Table Spoons rapeseed Oil
2 Sprigs Fresh Thyme
1 Sprig Rosemary
Pinch of Nutmeg
Twist of Black Pepper
Drizzle of Honey
120g Goats Cheese
Hand Full Mixed Salad Leaves
Method
Place a tray in a hot oven for 15 minutes at 200°c
Peel and roughly cut the vegetables into thick chip style. Place vegetables in a bowl and add the oil. Add black pepper and nutmeg.
Add fresh rosemary & thyme and mix everything together.
Place vegetables on to hot tray from the oven and you should here vegetables sizzle immediately. Quickly return to the oven and cook for 30 minutes. 
Remove from the oven and serve warm with mixed salad leaves, a drizzle of honey and nibbles of local goats cheese.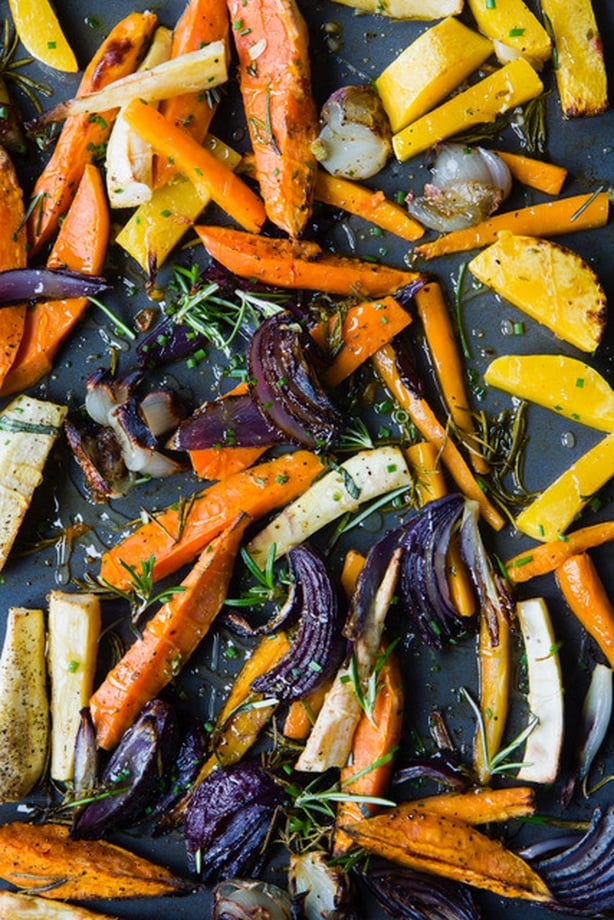 Brian's Tips: Add some toasted walnuts to the salad.