Honey & Lemon Roast Chicken with spring leaves, feta & hazelnut.
Ingredients
1 large free range chicken
1 onion peeled and diced
2 lemons
10 sprigs of lemon thyme
2 cloves garlic
100ml honey
1 deseeded red chilli finely sliced
50ml rapeseed oil
6 scallions finely chopped
1tsp fresh ginger
Juice of 1 lime
100g feta crumbled
400g salad leaves
80g toasted hazelnuts
400g spring leaves
Method
Preheat your oven to 180 gas mark 6
Place the chicken on a baking tray. Stuff the carcass with 1 lemon sliced, onion, thyme and garlic
Brush the chicken with the honey and season with salt
Bake for 1 hr 45 mins brushing with honey every 30 minutes
Remove the breasts, legs and thighs
Place on a large serving plate
Squeeze the juice of a lemon over the chicken.
For the dressing mix the oil, lime juice, chilli, ginger and scallions together
Spoon the dressing over the chicken. It's ready to serve
Mix the leaves with the remainder of the dressing, feta, hazelnuts & parsley. Serve alongside the chicken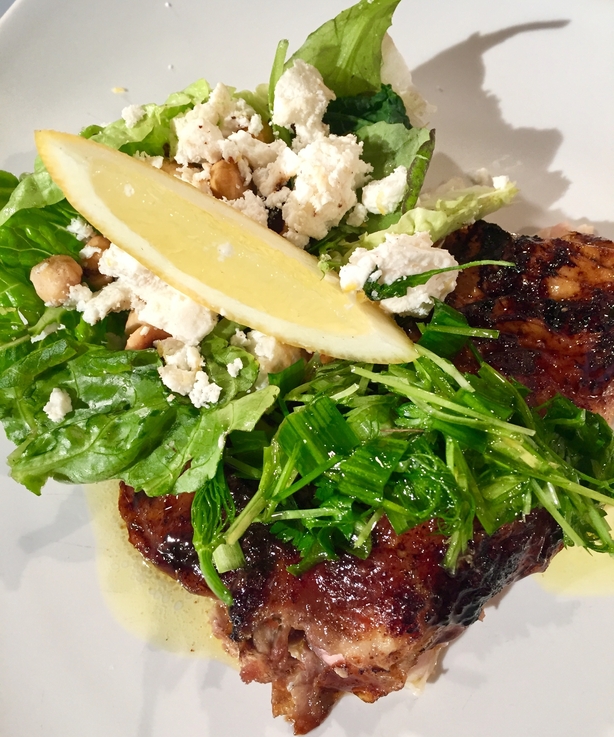 Enjoy!