When you come home from a long day of Christmas shopping, this prawn and chili pasta will do the trick.
Ingredients
Serves: 2
Pasta cooking:
3 litres of water
25g table salt
250g pasta
Sauce
150g reserved pasta water
150 g light olive oil (3/4 cup)
300g red onion(1 large)
15g. Peeled garlic (5 cloves)
100g tender stem broccoli split lengthways (10stalks)
1/2 a veg stock cube
25g red chilli (around 1 chilli) more if you like it hot!!
1g dried chili flakes (very Small pinch)
250 g peeled prawns
25 g pack coriander
50 g spinach
25 g butter
Salt to taste
Method
Pasta
Fill a big pot with the water ( I boil in the kettle first to save time) you want to give the pasta room to move so do use the full amount of water boil as per pack instructions minus two minutes.
When time is up, drain the pasta reserving 150g of the water.
Using the same pot put in the olive oil, red onion, broccoli stems & garlic, allow to cook until you see the red onion wilting and losing its colour.
Now add the chili, stock cube and reserved pasta water. Allow to come to the boil and add prawns.
Once the prawns turn pink add pasta, coriander & spinach mix thoroughly to ensure even coating.
Serve.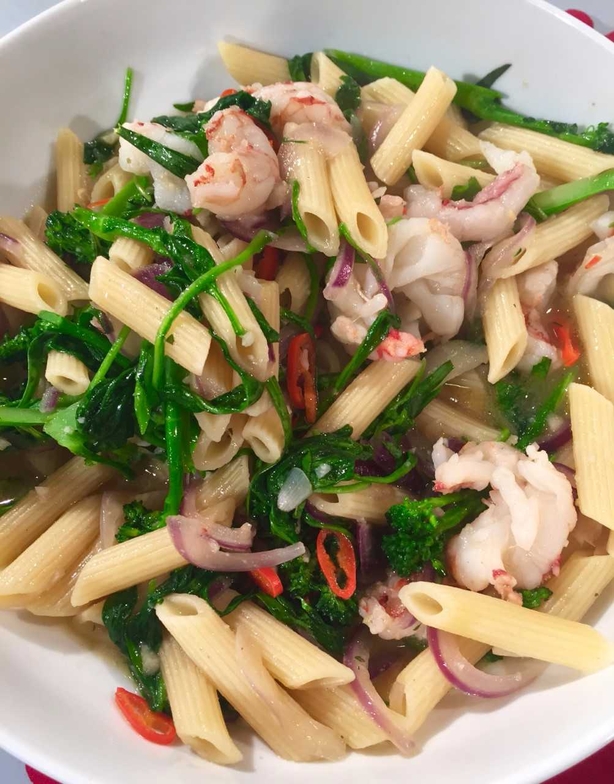 Note
Ensure water is boiling and should taste quite salty. Follow the cooking times on your pasta minus 2 minutes (as when resting and heating through with the prawns your pasta is still cooking)
When you strain the pasta reserve 150 g of the starchy salty water (roughly 1cup)
This pasta won't look like a sauce covered pasta but it packs slot of flavour into the light olive oil coating it gives the pasta.