Donal Skehan dishes up Pork & Fennel Ragu. Tune into RTÉ One at 8:30pm every Tuesday to watch Donal's Meals in Minutes.
Ingredients
250g rigatoni
1 tbsp olive oil
2 garlic cloves, finely chopped
½ tbsp fennel seeds
3 large butchers sausages, preferably with fennel, casings removed
400g tomato passata
50g frozen spinach
A good handful of fresh basil
Parmesan cheese, shavings to serve
Method
Cook the pasta in a large pot of boiling salted water for 12 minutes or so until al dente before draining. 
While the pasta is cooking, heat the oil in a large frying pan over a medium high heat. Add the garlic and fennel seeds and fry for 30 seconds or until aromatic and the garlic begins to go golden. Add in the sausage meat and fry until lightly browned, breaking up with the back of a wooden spoon as it fries. 
Pour in the tomato pasatta, add in the spinach breaking up with a wooden spoon and bring to a steady simmer and cook for 10 minutes until thickened slightly. Check for seasoning and add salt and red chilli flakes as required. 
Pour the sauce into the pot of pasta and stir to combine completely. 
Serve with fresh basil and Parmesan shavings.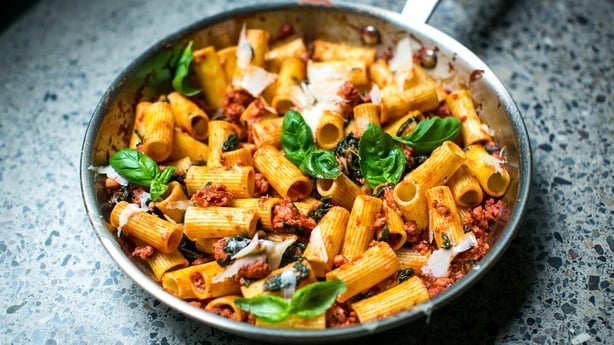 Nutri-facts
Per serving ; 810kcal (calories), 29g Fat, 10g Sat, 105g carbohydrate, 6g Fibre, 17g
Protein

Great source of phosphorous (mainly from pork). Phosphorous helps build
and protect bones and teeth.
---

Great source of Vitamin A (mainly from tomato and spinach in the form of
carotenes). Carotenes are converted to Vitamin A – good for health skin and
essential vision.
---

Nutri-tips

For anyone who has high energy needs – exercises regularly (cycling from
Malin to Mizzen head anyone!)This recipe is high carb, high energy!
---

Cut down serving size of pasta if you're not terribly active.
---

SPOTLIGHT FOODS IN THIS RECIPE

Tomato
are good sources of Vitamin C and beta-carotene and the richest source of the antioxidant lycopene.
Interestingly this is one case where processing can actually enhance the availability and absorption of
nutrients. So not only can you enjoy fresh tomato, you can also enjoy a little tomato purée, tomato
passata or even tomato sauce! Lycopene helps protect cells and other structures in the body from
oxygen damage and has been linked in human research to the protection of DNA (our genetic
material) inside white blood cells.

Frozen Spinach
Spinach is high in vitamins A, C and folate, and is a source of vitamin E too. If you simply don't have
the time to make a fresh soup from scratch, buy the best fresh soup you can and add some extra
goodness yourself! Simply throw in lots of fresh or frozen spinach leaves just at the end of heating the
soup for some extra goodness and nutrition. Frozen vegetables can be just as nutritious as fresh. An
average serving of spinach (90g) has only 23 calories and less than 1g of fat.