Donal Skehan dishes up Shredded Duck & Orange Salad. Tune into RTÉ One at 8:30pm every Tuesday to watch Donal's Meals in Minutes.
Ingredients
1/2 Silverhill crispy aromatic duck (or any free range, organic duck)
4 spring onions, finely sliced
2 large handfuls of winter salad leaves
A good handful of fresh mint leaves
A good handful of fresh coriander leaves
2 oranges, segmented, plus the leftover juice
For the dressing:
1 tbsp of dark soy sauce
1 tbsp of rice wine
1 tsp of sesame oil
1 small thumbsized piece of ginger, finely minced
Zest of 1 orange
Method
Cook the duck at 190* in an oven for 20-25mins, until crispy, remove and shred the meat. You can use leftover duck here too.
Whisk together the ingredients for the dressing.
In a large bowl mix the shredded Duck, spring onions, salad leaves, fresh mint leaves, coriander and the orange slices. Pour in the leftover orange juice and the dressing.
Pile onto large serving plates and serve straight.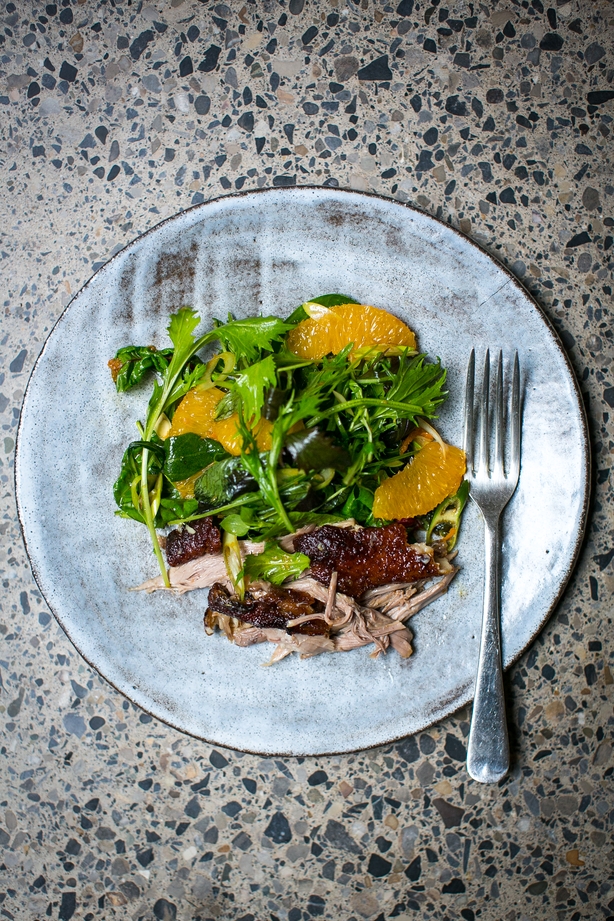 Nutri-facts
Per serving; 840kcal (calories), 33g Fat, 11g Sat, 105g carbohydrate, 6g Fibre, 17g
Protein
Great source of B12 and iron (both mainly from duck)
---
Vitamin B12 protects nerve cells and encourages their normal growth. Iron
helps haemoglobin in red blood cells and myoglobin in muscle cells carry
oxygen throughout the body to produce energy in our cells.
---

Nutri-tips
Great summer alfresco lunch or garden dining – use Summer seasonal salad
leaves.
---
Low carb for late evening dining and relaxing.
---
Add a couple of tablespoons per person of nutty quinoa or wild / red rice to
satisfy more active diners.
---

SPOTLIGHT FOODS IN THIS RECIPE
Duck
Like other types, poultry is a good source of protein, iron, B vitamins, and zinc. It has a thick layer of
fat directly under the skin, which adds flavour and taste to dishes although some people prefer not to
eat it.
Mint
Mint leaves are a herb that can be added to water, tea, salads and stir-fries for a refreshing burst of
flavour. 100g of the leaves have 31mg of vitamin C (high) and a surprising 210mg of calcium, 9.50mg
of iron and 110ug of folate. However, we only eat very small amount of herbs in meals. Mint is a well-known digestive aid, but if you suffer from heartburn mint can make your symptoms worse.