Donal Skehan dishes up Flattened Spiced Chicken Thighs with Creamed Corn. Tune into RTÉ One at 8:30pm every Tuesday to watch Donal's Meals in Minutes.
Ingredients
4 chicken thighs, Skin on, Bone in
1 tbsp olive oil
1 tbsp Cajun seasoning
75g sun-blushed tomatoes
Sea salt and ground black pepper
For the creamed corn:
340g tin sweetcorn
1 tbsp butter
1 tsp thyme leaves, finely chopped
1 small onion, finely chopped
A pinch of cayenne pepper
For the rocket salad:
75g rocket leaves
1 tbsp extra virgin olive oil
1 tbsp balsamic vinegar
Method
Place a heavy based frying pan over a medium high heat and add the oil. Dust the chicken thighs with Cajun seasoning, sea salt and ground black pepper.
Fry the chicken thighs skin side down for 3-4 minutes until you they turn golden brown. Reduce the heat and continue to cook skin side down for approximately 20 minutes, pressing down against the pan regularly. Turn the chicken and continue to cook for 6-8 minutes or until cooked all the way through. Add the sun blushed tomatoes to heat through.
While the chicken is cooking, place a frying pan over a medium high heat and melt the butter. Add the onion and thyme and fry for 6-8 minutes until tender.
Drain the corn and reserve the liquid. Add the kernels to the pan and fry for 3 minutes. Transfer the contents of the pan to a food processor along with the reserved liquid and blitz until just smooth. Return to the pan and bring to simmer. Season with sea salt and cayenne pepper to taste and keep warm.
In a bowl whisk together the olive oil and vinegar and season with sea salt and ground black pepper. Add the rocket leaves and toss to coat.
Serve the warm creamed corn on plates with two chicken thighs per person and garnish with the sun blushed tomatoes and rocket leaves.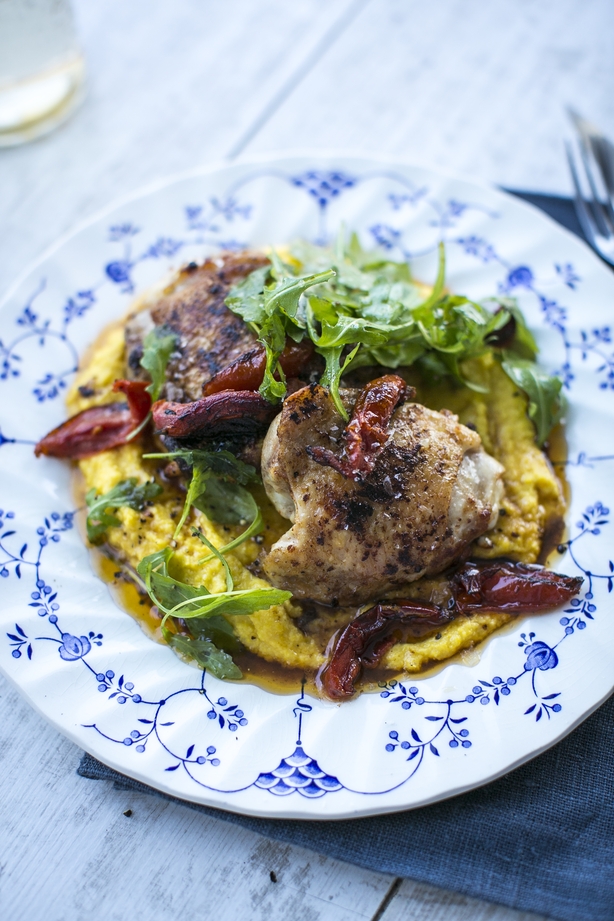 Nutri-facts
Per serving; 519kcal (calories), 39 g Fat, 11g Sat, 8g carbohydrate, 5g Fibre, 34g
Protein
Great source of iron (mainly from chicken brown meat in thighs). Iron helps
us make amino acids, neurotransmitters and hormones.
---
Great source of vitamin C which bolsters the immune system.
---
Nutri-tips
Tasty dish, good in any season
---
Try adding some sun blushed tomatoes
SPOTLIGHT FOODS IN THIS RECIPE
Rocket Leaves
Spices would have stronger medicinal effects if they were not eaten in such small amounts.
For example, 100g of turmeric is high in potassium – needed for muscle function and regulation of
blood pressure. Also high in zinc – which we need for maintenance of normal vision, for the immune
system and protection of cells from oxidative stress.
---