In his brand new series, 'Donal Skehan's Meals in Minutes', Donal shows us how to make tomato and ricotta puff pastry tarts.Tune in every Tuesday on RTÉ One at 8:30pm.
Ingredients
Cooking Time: 35-40 minutes
Serves: 4
500g frozen puff pastry block, thawed
1 egg, beaten
For the filling:
100g cherry tomatoes cut in half
(red and yellow, if possible)
250g ricotta cheese
Few fresh thyme sprigs
Small handful of oregano, roughly chopped
1 tbsp olive oil
1 Small courgette cut into ribbons
1 tbls Balsamic Vinegar
Method
Preheat the oven the 190C. Slice the tomatoes in half and place in a bowl. Toss with a little olive oil, thyme, oregano and season with sea salt and ground black pepper. Set aside at room temperature to allow the flavours to develop.
Roll the puff pastry out on a clean well-floured work surface using a rolling pin, until you have a large square, slice into four squares.
Transfer the pastry to a baking tray lined with parchment paper. Using a butter knife score an inner square to about 1-2cm in thickness.
Prick the pastry bases with a fork and then spread with ricotta cheese.
Toss the tomatoes & courgette in a bowl with the balsamic Vinegar and a drizzle of olive oil.
Place on top and bake in the oven for about 20-25 minutes until the tomatoes have reduced in size by half, slightly charred and the pastry has turned a nutty brown. Leave to cool for 5 minutes,
Arrange on plates and serve with simply dressed salad.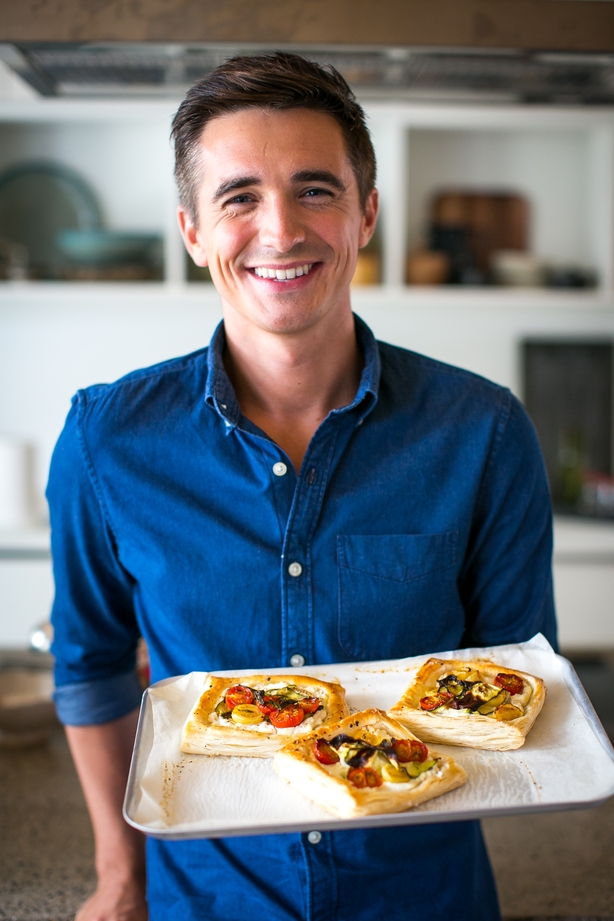 Nutri-facts
Per serving; 684kcal (calories), 51g Fat, 16g Sat, 42g carbohydrate, 3g Fibre, 14g Protein
Great source of folate. Folate is a B vitamin vital important for new cell formation.
Also a great source of vitamin B12 (found mostly in animal products and can be low in a vegetarian diet).
Vitamin B12 protects nerve cells and encourages their normal growth.
Nutri-tips
Indulging? Add some blue cheese such as cambozola/ Cashel blue to recipe
Slimming? Top with cottage cheese and lashings of black pepper and perhaps use filo pastry instead of puff.
Add items from jars to vary week to week – Roasted pepper in jars, stuffed olives, sliced gherkins
SPOTLIGHT FOOD IN THIS RECIPE
Eggs
A large egg contains approx 70 calories. Cost-effective and versatile. One egg has varying amounts of 13 essential vitamins and minerals plus 6 grams of high biological protein.
Two-thirds of the fat in the egg yolk is healthy unsaturated fat and one-third is saturated so the balance of fats overall is good.
Tomatoes
are good sources of Vitamin C and beta-carotene and the richest source of the antioxidant lycopene. Interestingly this is one case where processing can actually enhance the availability and absorption of nutrients.
So not only can you enjoy fresh tomato, you can also enjoy a little tomato purée, tomato passata or even tomato sauce! Lycopene helps protect cells and other structures in the body from oxygen damage and has been linked in human research to the protection of DNA (our genetic material) inside white blood cells.