Donal Skehan dishes up Middle Eastern Chicken & Bread Salad in 5 minutes. Tune into RTÉ One at 8:30pm every Tuesday to watch Donal's Meals in Minutes.
Ingredients
Serves: 1
Cooking time: 5 Minutes
3 tbsp olive oil
150g sourdough bread, torn into rough bite-sized pieces
200g leftover turmeric roast chicken, shredded (use primarily dark meat and skin)
Olive oil, for drizzling
200g cherry tomatoes,
1⁄2 cucumber, diced
1⁄2 red onion, thinly sliced
Large handful of fresh coriander, roughly torn
Large handful of fresh parsley, roughly torn
75g black olives, pitted

For the dressing:
1 roasted red peppers from a jar, seeds removed
3 tbsp extra-virgin olive oil
1 tbsp red wine vinegar
Juice of 1⁄2 lemon
1 garlic clove, finely grated
1 tsp cumin seeds, toasted
1 tsp sumac
Sea salt and freshly ground black pepper
Method
Place a large frying pan over a high heat.
Add the chicken and bread to the pan and drizzle liberally with olive oil.
Sprinkle in ½ tbs sumac & ½ tbs cumin
Cook until the bread is toasted and the chicken is crispy and warmed through.
Place the pepper in a food processor with the ingredients for the dressing and blitz until smooth. Season to taste, transfer to a mixing bowl and set aside.
Place all the remaining salad ingredients in a large mixing bowl and add the chicken, toasted bread and dressing. Toss until completely coated and serve.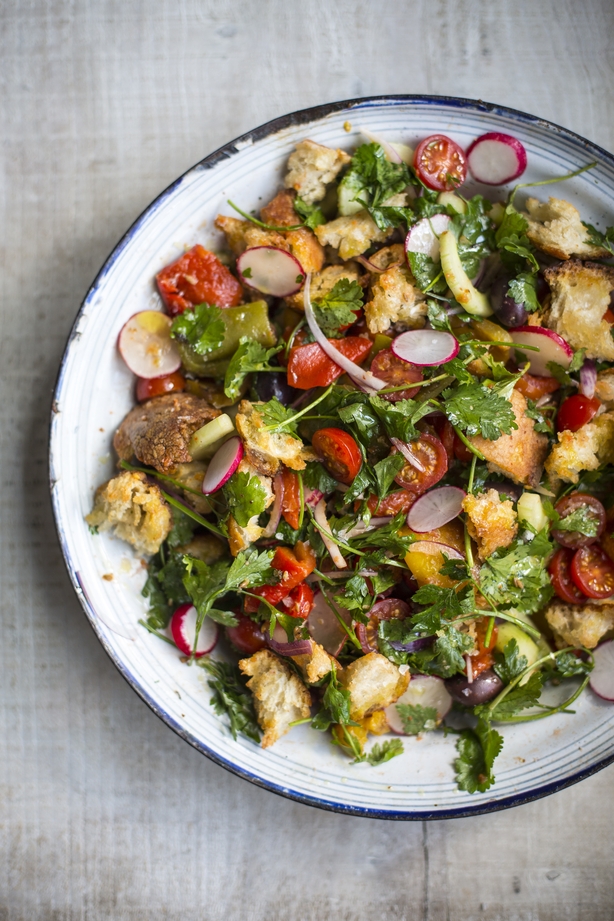 Nutri-facts
Per serving; 441kcal (calories), 27g Fat, 6g Sat, 26g carbohydrate, 6g Fibre, 24g Protein
Great source of Vit C (mainly from peppers, tomatoes & parsley). Vit C acts as an antioxidant, neutralizing unstable free radicals that can damage our bodies cells.
Great source of vitamin B6. This vitamin helps convert tryptophan to niacin and serotonin, a neurotransmitter that plays key roles in how we sleep, our appetite and our mood.
Nutri-tips
Medley is well balanced in macros (fats, carbs and protein). Nice fibre level too.
Discuss better quality breads – like sourdough.
Hold back on the bread and oil portions if you want to make this even leaner.

SPOTLIGHT FOODS IN THIS RECIPE
Olives
Contain approx 130 calories per 100 grams, or about 59 calories for 10 olives. They consist of 75% water, 11% fat, 4% carbs and minor amounts of protein. Some people mistakenly think olives are high in fat. They are not. The quality of the fat found in olives makes it heart healthy. Almost ¾ of the fat is oleic acid, a monounsaturated fatty acid. Olives also provide a small amount of the essential fatty acid called linoleic acid. Few vegetables offer such a diverse range of antioxidant and anti-inflammatory nutrients.