Donal Skehan shares his recipe for Ras El Hanout Chicken Thighs with Baked Feta and Shaved Fennel.
Ingredients
Cooking time: 55 minutes
Serves: 2
For the chicken:
4 chicken thighs, Skin on, bone in
1-2 tbsp rapeseed oil
2 red onions, sliced in quarters, roots intact
2 tbsp ras-el-hanout
1 x 200g packs of feta
1 tsp dried chilli flakes
1 tsp dried oregano
Sea salt and ground black pepper

For the shaved salad:
1 tbsp extra virgin olive oil
Juice of ½ lemon
1 tsp fennel seeds, toasted
1 head fennel, shaved on a mandolin
Handful of mint, to garnish
Handful of coriander, to garnish
Method
Preheat the oven to 200°C/400°F/GasMark 6.
Place the chicken thighs and red onion on a large flat low sided baking tin and drizzle with oil. Sprinkle on the ras-el-hanout and season generously with sea salt and ground black pepper.
Place in the oven to roast for 35 minutes. When crispy and almost cooked through, remove the roasting tin from the oven and break the feta into four chunky pieces around the sides of the chicken. Drizzle with a little extra oil and sprinkle with chilli flakes and dried oregano.
Place back in the oven to bake for a further 10 minutes until the chicken is completely cooked through. Combine all the ingredients for the salad and serve alongside the chicken and feta.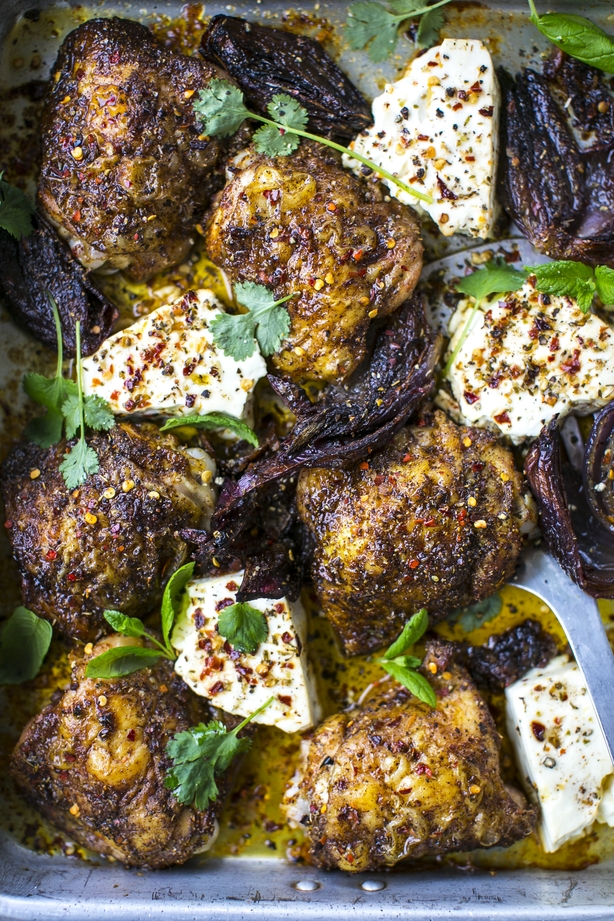 Nutri-facts
Per serving; 780kcal (calories), 59g Fat, 22g Sat, 12g carbohydrate, 5g Fibre, 52g Protein
Low carb, high protein
Great source of phosphorous (mainly from cheese and chicken). Phosphorous helps build and protect bones and teeth.
This recipe is also a great source of Zinc. The mineral zinc supports our immune function. Being busy and stressed is not good for your immune system, but cooking can be pretty therapeutic!
Nutri-tips
If you can't find Ras el hanout use gamma masala.
Don't eat chicken skin but leave it on thighs for flavour when cooking
Use less oil in salad dressing to cut calories if watching your waistline

SPOTLIGHT FOODS IN THIS RECIPE
Fennel
is a flowering plant species in the carrot family. It is a hardy, perennial herb with yellow flowers and edible feathery leaves. It is an excellent source of vitamin C. It is also a source of fibre, potassium, manganese and folate.