Donal Skehan dishes up Carrot & Cumin Pilaf Rice. Tune into RTÉ One at 8:30pm every Tuesday to watch Donal's Meals in Minutes.
Ingredients
Cooking Time: 50 minutes
Serves: 2
1 tbsp rapeseed oil
1 onion, finely chopped
2 carrots, sliced thinly
1 tsp cumin
1 tsp turmeric
1 tsp curry powder
200g Basmati rice
350ml Vegetable stock
1 x 400g tin chickpeas, drained and rinsed
A good handful of flat-leaf parsley, finely chopped
1 lemon
Method
Preheat the oven to 200°C.
Place a low-sided casserole dish over a medium-high heat. Add the oil and fry the onion and carrot for 6 minutes or until the onions are just tender. Add in the spices and fry for another 2-3 minutes.
Stir through the rice, vegetable stock and chickpeas. Bring to a steady simmer before covering with a lid and transferring to the oven to cook for 35 minutes. Fluff up with a fork after half the cooking time.
Once cooked stir through the parsley and a squeeze of lemon juice.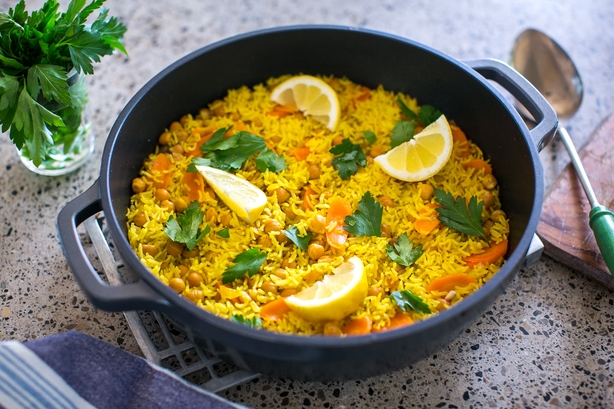 Nutri-facts
Per serving; 628kcal (calories), 11g Fat, 1g Sat, 103g carbohydrate, 14g Fibre, 19g Protein.
Great source of Vitamin A (mainly from carrots). This vitamin keeps our vision and our skin healthy and well. Not only is it a great fibre provider , it also is very rich in Vitamin C. Vitamin C bolsters our immune system unlike a take-away when we're time poor and exhausted after a working week.
Nutri-tips
No need to make a supermarket trip for this one. Just use-up a few everyday stock cupboard items
- You can use dried herbs and spices in this recipe. Most of us have these. Add frozen or precooked prawns at the end or maybe some smoked tofu or cubes of leftover chicken for any not vegetarians that drop in.

SPOTLIGHT FOODS IN THIS RECIPE
Parsley
Garden parsley is a species of flowering plant native to the central Mediterranean region and widely cultivated as a herb, a spice, and a vegetable. 100g of parsley is a rich source of vitamin K and vitamin C as well as a good source of vitamin A, folate and iron. However we only eat small amounts of herbs so they don't contribute much in comparison to our vegetable intake overall. Parsley's volatile oil components include myristicin and limonene