Donal Skehan dishes up Turmeric & Ginger Spatchcocked Chicken with Roast Vegetables. Tune into RTÉ One at 8:30pm every Tuesday to watch Donal's Meals in Minutes
Ingredients
Cooking Time: 55 minutes. Additional: 1 hour to marinade.
Serves: 4
1 x 1.5kg free range chicken
2 red onions, sliced in quarters, roots trimmed and intact
For the hummus:
400g tin chickpeas, drained and rinsed
1 tbsp tahini paste
1 large garlic clove, finely grated
1 tsp cumin
1 tsp cayenne pepper
1 tsp smoked paprika
Juice of ½ lemon
A good pinch of sea salt
1/2 tbsp each of cumin, coriander, cayenne, smoked paprik
1 tsp cinnamon
1 tbsp sesame seeds
3 tbsp neutral flavoured oil
For the pearl barley salad:
250g pearl barley
3 tbsp extra virgin olive oil
Juice of 1 lemon
3 oranges, segmented
1 large red onion, thinly sliced
200g feta cheese, crumbled into chunks
Large handful of fresh mint, roughly chopped
Large handful of fresh coriander, roughly chopped
Method
Place all the ingredients for the marinade in a large mixing bowl and whisk to combine- if it's too thick loosen with a little extra oil, it should easily coat the chicken.
To prepare the chicken, place the bird breast-down and, using a knife or sharp scissors, cut along either side of the backbone to remove it. Open the bird out and flip it over breast-side up and, using your fist, push down hard on the breast to break the bone.
Toss the spatchcocked bird and red onions in the marinade and leave for to marinade covered in the refrigerator for 1 hour or overnight.
Preheat the oven to 200°C.
Scatter the onions over the base of a large roasting tray. Place the chicken on top and cook in the oven for 45 minutes or until cooked all the way through.
Prepare the hummus by placing all the ingredients in a food processor and blitzing until completely smooth. If the hummus is too thick loosen to a smoother consistency with 1-2 tbsp of water.
For the pearl barley salad, place the pearl barley in a pan and cover with water. Place over a medium-high heat and bring to the boil. Reduce the heat and simmer for 50 minutes, or until the grains are tender and all the cooking liquid has been absorbed. Set aside to cool.
Whisk together the olive oil, lemon juice and any leftover orange juice from the segments. Season to taste. Add the pearl barley and remaining salad ingredients and toss to coat. Cover and set aside.
Once the chicken is cooked through, slice into portions and serve with a dollop of hummus and a generous side of pearl barley salad.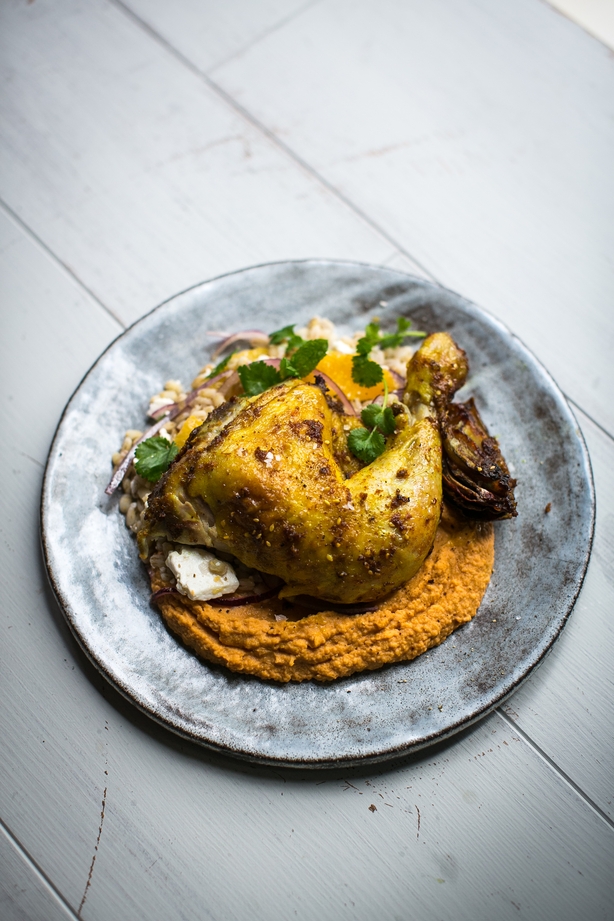 Nutri-facts
Per serving; 756kcal (calories), 45g Fat, 12g Sat, 36g carbohydrate, 5g Fibre, 50g Protein.
Nutri-tips
For the very active – with mega resistant training regimes!
You don't have to use all the humus in this recipe. It keeps for a few days in the fridge and excellent on crackers with cherry tomatoes and rocket for a quick lunch the following day.
Feta cheese in the salad boosts the already excellent levels from chicken and the plant protein found in chickpeas.

SPOTLIGHT FOODS IN THIS RECIPE
Turmeric
Spices would have stronger medicinal effects if they were not eaten in such small amounts.
For example, 100g of turmeric is high in potassium – needed for muscle function and regulation of blood pressure.
Also high in zinc – which we need for maintenance of normal vision, for the immune system and protection of cells from oxidative stress.
Ginger
It contains the active ingredient gingerol which is responsible for its hot pungent taste and aroma. Ginger can help relieve nausea, motion and morning sickness. It is a source of potassium – needed for normal muscle function and regulation of blood pressure.
You can add raw ginger to stir-fries or curries; use in marinades; grate to make tea. Dried ginger works well in puddings, flapjacks and fruit cakes or stewed fruits, particularly apple.