Donal Skehan creates a One Tray Roast Vegetable Pasta. Tune into RTÉ One at 8:30pm every Tuesday to watch Donal's Meals in Minutes.
Ingredients
Cooking Time: 45 minutes
Serves: 2
200g cherry tomatoes, sliced in half
1 small aubergine, cut into 2cm cubes
1 courgette, cut into 2cm cubes
1 red onion, quartered but roots left intact
1 head of garlic, top sliced off
4 tbsp olive oil
2 tbsp balsamic vinegar
1 tsp chilli flakes
200g penne
Sea salt
Parmesan shavings, to serve
Large handful of basil leaves, to serve
Method
Preheat the oven to 200°C (180°C fan).
Arrange the tomatoes, aubergine, courgette, red onions and garlic in separate piles across a medium-sized roasting tin with high sides. Drizzle over the olive oil and balsamic vinegar and sprinkle with sea salt and chilli fakes. Give everything a good shake to make sure it's all coated evenly, then place in the oven to roast on the middle shelf for 30 minutes.
About 10 minutes before the vegetables are finished cooking, cook the pasta in a large pan of boiling salted water until al dente.
Remove the roasting tin from the oven and carefully squeeze the mushy garlic out of the skins on to the tomatoes; discard the skins. Using the back of a fork, mash down the garlic and tomatoes until combined. Add a ladle of the pasta cooking liquid to this and stir to make a sauce. Now mix all of the contents of the pan together and then pour in the drained pasta.
Add some generous shavings of Parmesan and roughly tear in a few basil leaves. Toss everything together until well combined and serve hot, garnished with more Parmesan shavings and basil leaves.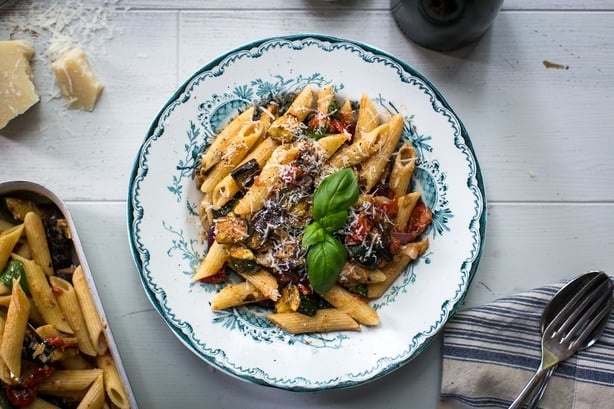 Nutri-facts
Per serving; 650kcal (calories), 32g Fat, 6g Sat, 12g carbohydrate, 2g Fibre, 3g Protein.
Very high in Fibre for good gut health. All these vegetables are prebiotics which means they encourage the growth of the good bacteria in the gut and keep your immune system strong.
Great source of Vitamin B6. This vitamin is also important for immune function and red blood cells.
Nutri-tips
Roasting veggies is healthier than chargrilling them and turning them black. They retain their nutrients well in a tray bake. You can always add softer veg later and leave with a little bite.
Time short? Chopping these veg takes nothing out of you! Easy to manage for those with mediocre knife skills.
Throw in some olives or some sea veg (a condiment of crushed seaweed) for an extra salty flavoursome kick instead of table salt. Unfortunately sea salt is salt at the end of the day and too much is not good for the blood pressure. That's why we rely more on buckets of aromatic spices and herbs to pep up this tray bake.

SPOTLIGHT FOOD IN THIS RECIPE
Aubergines
Aubergines provide us with fibre, with 2.5 grams of fibre per 100 grams. They are naturally low in fat. The deep purple-coloured skin of aubergine contains flavonoids and anthocyanins, which are potent antioxidants. A serving or 80g aubergine contains only 12 kilocalories.