This week on Donal's Meals in Minutes, Donal Skehan dishes up a delicious serving of Veggie Pad Thai. Tune into RTÉ One at 8:30pm every Tuesday.
Ingredients
Serves : 1
Cooking time : 5 minutes
125g flat rice noodles - straight to wok
1 courgette, finely julienned
1 large carrot, finely julienned
100g bean sprouts
2 spring onions, finely sliced
1 tbsp of fish sauce
1 tbsp of soft light brown sugar
1 tbsp tamarind paste
1 large free range eggs, beaten
A good handful of roughly chopped salted peanuts
A good handful of coriander
1 tbsp of sunflower oil
15g roasted salted peanuts, finely chopped
For the pad Thai paste:
2 garlic cloves, roughly chopped
A good handful of coriander, leaves and roots or stalks
1 red chilli, deseeded, roughly chopped
1 limes, juice and zest
Method
In a food processor make a paste from the garlic, coriander roots, red chilli, lime zest spring onion tops.
Heat the oil in a wok or a large non stick frying pan over a high heat. When the oil is just at smoking point add in the paste and fry for about 1 minute until it becomes aromatic. Add in the vegetables, the spring onions and ½ bean sprouts and cook for 2 minutes or until just tender. Stir frying to coat.
Add the noodles and mix through. Add in the lime juice, fish sauce, brown sugar and tamarind and cook for 2 minutes.
Pour in the beaten egg and mix through the noodles until just cooked- the trick here is to allow the eggs to slightly set before mixing. Using a tongs, twist the noodles onto serving plates and garnish with herbs, lime wedges, chopped salted peanuts, and bean sprouts.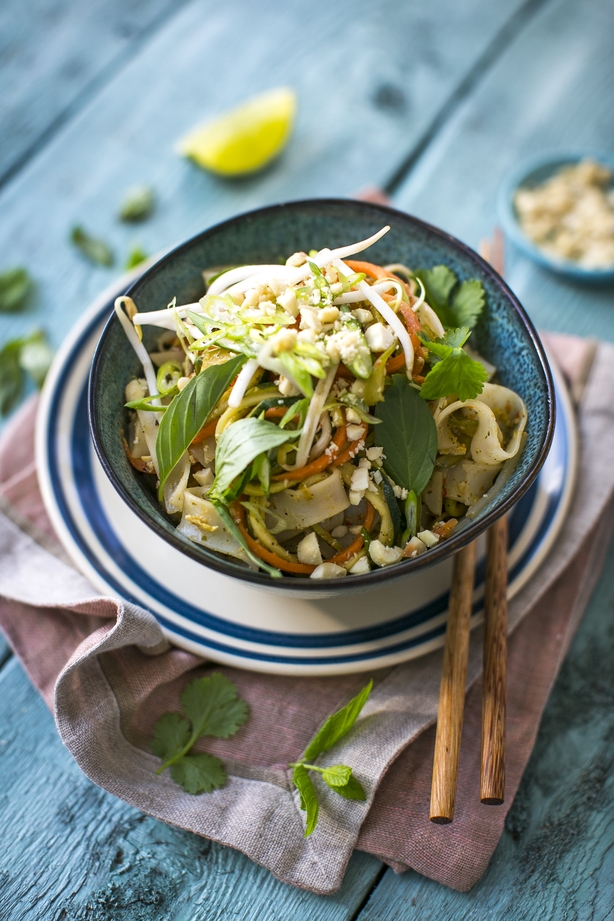 Nutri-facts
- Great source of Vitamin A (mainly from carrots and a little from egg). Vitamin A is essential for vision and healthy skin. Great vegetarian source of B12 (not vegan)
Nutri-tips
- Peanuts are not just a great source of plant protein. Peanuts provide fibre and protective heart nutrients.
- This recipe really is a rainbow of colour, with loads of phytonutrients from five different veggies and various herbs
- Per serving ; 630kcal (calories), 36g Fat, 6g Sat,51g carbohydrate, 8g Fibre, 26g Protein
SPOTLIGHT FOODS IN THIS RECIPE
Beansprouts
Mung beans produce an edible sprout that is nutty tasting and crisp. Beansprouts are substantial enough to add to stir-fries at the end, but they are best eaten raw in salads and on open sandwiches. Mung bean sprouts are low in calories, contain fibre and B vitamins, and boost vitamin K in meals. Bacteria in the large intestine make some vitamin K, but not enough to meet your daily needs.
Donal's Meals in Minutes is sponsored by Spar.