This week on Donal's Meals in Minutes, Donal Skehan dishes up a delicious serving of Falafel Quinoa Salad Bowl. Tune into RTÉ One at 8:30pm every Tuesday.
Ingredients
Serves : 4
Cooking Time : 25 minutes
1 x 400g tin of chickpeas, drained and rinsed
60g breadcrumbs
2 tbsp tahini paste
1 large free-range egg
1 tsp ground coriander
1 tsp ground cumin
6 spring onions, thinly sliced
2 tbsp rapeseed oil
Sea salt and ground black pepper
Spiced yoghurt;
100g natural yoghurt
1 tsp garam masala
Zest of 1 lemon
For the salad:
Half small red cabbage, finely shredded
25g sprouts
200g red quinoa, cooked
1 avocado, thinly sliced
8 cherry tomatoes, sliced in half
Method
Preheat oven to 180°C/ 350°F/ Gas Mark 4
To make the falafels place half the chickpeas in a food processor with the breadcrumbs, tahini paste, egg, coriander and cumin and blitz until smooth. Remove the blade and stir through the remaining chickpeas and the spring onions. Season with sea salt and ground black pepper.
Form the mixture into twelve balls slightly bigger than a walnut and flatten slightly. Place on a plate, cover and set aside.
Place a large frying pan over a medium high heat and add the oil. Fry the falafels in the pan for 4–5 minutes on each side, until they have a nice golden colour.
In a small bowl mix together all the ingredients for the spiced yoghurt dressing and set aside.
Divide the cooked quinoa amongst four bowls along with the remaining salad ingredients, cooked falafel and drizzle with the yoghurt. Serve.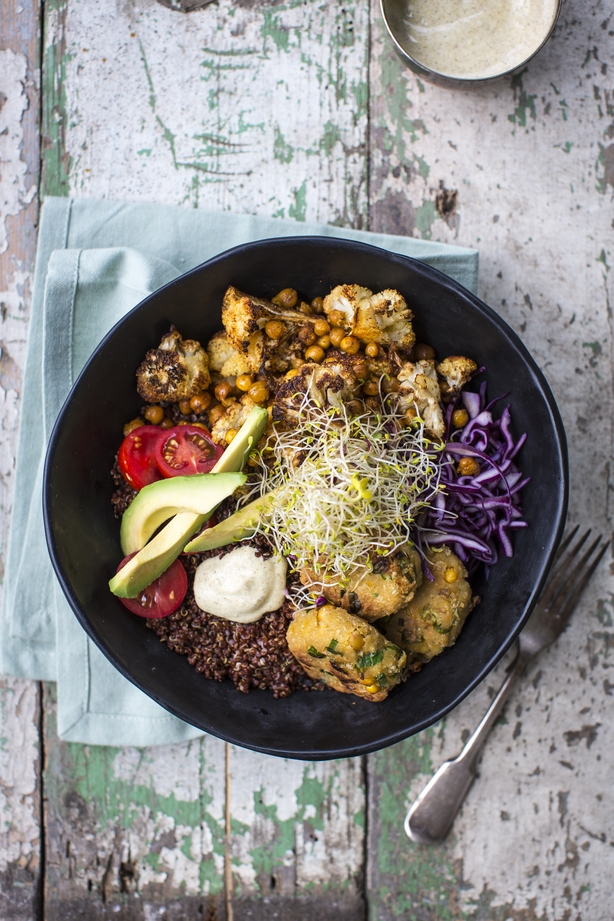 Nutri-facts
- Per serving ; 732 kcal (calories),38g Fat, 6g Sat,64g carbohydrate, 18g Fibre, 29g Protein
- Great source of filling fibre and satisfying protein for a vegetarian dish.
- Great source of Vitamin C (mainly from cabbage and cauliflower).
- Vitamin C acts as an antioxidant, neutralising unstable free radicals that can damage body cells.
Nutri-tips
- Batch make your own Tahini at home and store in fridge for recipes like this. It's cheaper.
- Adapt this to a vegan palate by removing the yoghurt.
SPOTLIGHT FOODS IN THIS RECIPE
Quinoa
Pronounced "keen-wah," it's actually a seed, rather than a grain making it high in protein. Its versatility and nutritional goodness means that it is showing up on more on restaurant menus now than ever before. For any quinoa newbies, it looks a bit like couscous but has a richer, nuttier flavour. It's great thrown into most salads when you want a bit of texture.
Donal's Meals in Minutes is sponsored by Spar.