This week on Donal's Meals in Minutes, Donal Skehan dishes up a delicious serving of Mexican Chicken & sweet corn Soup. Tune into RTÉ One at 8:30pm every Tuesday.
Ingredients
Serves : 4
Cooking time : 25 minutes
4 chicken breasts
500g frozen sweetcorn
2.5 litres best quality chicken stock
1 red onion, thinly sliced
A good handful of coriander leaves, roughly chopped
Optional to serve:
Tortilla chips, to serve
Lime wedges, to serve
Avocado slices, to serve
For the chilli and coriander salsa:
3 green chillies, finely chopped
1 garlic clove, finely grated
Juice of ½ a lime
A small handful of coriander leaves and stalks, finely chopped
2-3 tbsp olive oil
Method
Place the chicken breasts and chicken stock in a medium sized pot. Place over a high heat and bring to the boil. Reduce the heat and simmer gently for 10-12 minutes or until the chicken is cooked all the way through. Skim away any scum that may form on the surface.
Remove the chicken from the liquid using a slotted spoon and allow to cool slightly before roughly shredding into pieces.
Keep the chicken stock at a steady simmer and add in the red onion and sweet corn and continue to simmer for 5 minutes. Check for seasoning and then remove from the heat and stir through the shredded chicken.
To assemble, pour the stew into deep bowls and top with coriander, tortilla chips and avocado slices. Drizzle the chilli salsa over the top and dig in!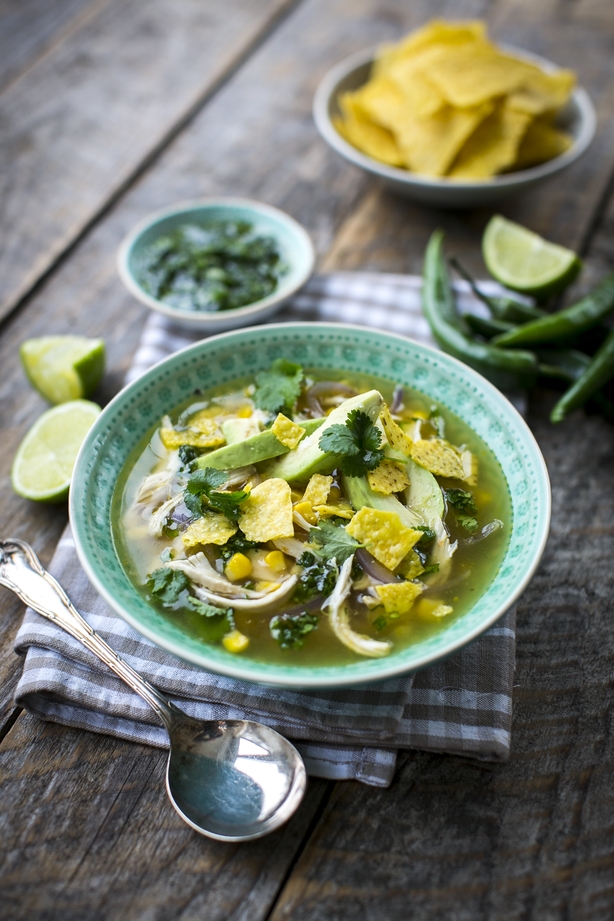 Nutri-facts
- Per serving; 295kcal (calories),7g Fat, 0g Sat,7g carbohydrate, 4g Fibre, 51g Protein
- This warm, filling and flavoursome chicken medley is a great source of protein (mainly from chicken) which will leave you satisfied and feeling energetic right up to your next meal.
- Great source of vitamin B6.
- Vitamin B6 helps convert tryptophan to niacin and serotonin, a neurotransmitter that plays a key role in sleep, appetite and mood.
Nutri-tips
- All the goodness and any nutrients leaching from veg are kept in this nourishing soup
- Forget the Tortilla chips if you're cutting calories and salt
SPOTLIGHT FOODS IN THIS RECIPE
Avocado
Many slimmers shy away from avocado, but calorie for calorie they offer a super array of nutrients. The avocado is high in potassium. Potassium helps to regulate blood pressure. Avocado is also rich in the antioxidant vitamin E. Avocado contains healthy monounsaturated fat. Stick to half an avocado if you are watching your weight - this contains about 140 calories.
Limes (lime juice)
Very low in calories and fat – only about 20 calories per 100g.
One lime is very high in vitamin C – contributes to reduction of tiredness and fatigue, acts as an antioxidant.
It also contains small amounts of other nutrients such as potassium and calcium, but not enough to be a significant source.
Limes are the most perishable of all citrus fruits and quickly dry out developing brown patches on their skin.
Donal's Meals in Minutes is sponsored by Spar.