This week on Donal's Meals in Minutes, Donal Skehan dishes up a delicious serving of Miso Salmon with Smacked Cucumber. Tune into RTÉ One at 8:30pm every Tuesday.
Ingredients
Serves : 2
Cooking time : 35-40 minutes
2 skinless salmon fillets (about 120g each)
125g brown sticky rice
FOR THE MISO MARINADE
1 tbsp red miso paste
1 tbsp rice wine
1 tbsp light soy sauce
1 tsp caster sugar
1-2 spring onion, very thinly sliced
2 tsp sesame oil
FOR THE SMACKED CUCUMBER SALAD
½ cucumber

25ml rice wine vinegar
1 tbsp caster sugar
1⁄4 head of Chinese cabbage, very thinly sliced
100g beansprouts
2 tbsp sesame seeds, toasted
Sea salt and freshly ground black pepper
Method
To make the smacked cucumber salad, cut the cucumber in half, place ½ the cucumber on a chopping board and smash several times with a rolling pin, then cut in half, scoop out the seeds and cut into thin batons.
Place the rice wine vinegar and sugar in a serving bowl and whisk until the sugar has dissolved. Add the cucumber batons, Chinese cabbage and beansprouts and toss to coat. Cover with cling film and set aside for at least 10 minutes, or up to 8 hours in the fridge.
Place the salmon in a deep-sided baking dish. Whisk together the ingredients for the miso marinade and pour over the salmon, turning until completely coated. Cover and leave to marinate in the fridge for 30 minutes and up to 2 hours or it can be used straight away.
Preheat the oven to 200 °C (180°C fan) and bring a large pan of salted water to the boil. Cook the brown rice for 25–30 minutes or according to the instructions on the packet.
While the rice is cooking pour any excess marinade from the salmon and then arrange the salmon fillets in the baking dish. Bake in the oven for 15 minutes until the salmon is cooked through and breaks easily with a fork.
Serve the salmon fillets with the cooked brown rice and cucumber salad.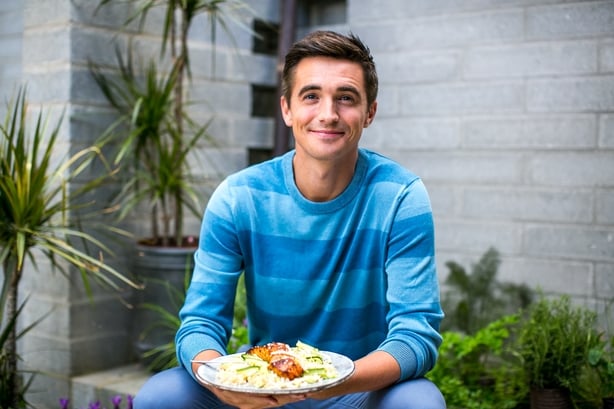 Nutri-facts
- Per serving ; 666kcal (calories),28g Fat, 5g Sat,67g carbohydrate, 7g Fibre, 36g Protein
- Great source of Vitamin D (from oily fish salmon, the best natural source of this vitamin in the diet).
- Great source of a healthy polyunsaturated fat called omega 3 – critical for brain, heart and joint health.
SPOTLIGHT FOODS IN THIS RECIPE
Miso - fermented soya
Miso is a traditional Japanese seasoning containing fermenting soybeans, salt and koji. Sometimes it contains rice, barley, or other ingredient to provide different flavours. Miso is considered a very salty food. However, recent research has shown that in spite this miso does not appear to affect our heart health in the way that other refined salty foods can. Reasons for this unique relationship between miso and heart health are not yet clear. In addition to conventional antioxidants like the minerals zinc and manganese, miso is known to contain phytonutrient antioxidants including phenolic acids like ferulic, coumaric, syringic, vanillic, and kojic acid.
Oily fish
Of the solid matter in the brain, 60% is fat. One of the best brain boosting foods you can choose is fish, especially oily fish such as salmon, mackerel, trout and sardines. These are rich in the essential omega 3 fatty acids. We cannot make these in the body so we must get them through diet.
Aim for 2 portions of fish every week, with at least one being oily. One portion is 100g/4oz cooked.
Donal's Meals in Minutes is sponsored by Spar.