Donal Skehan's One Pan Saltimbocca A La Romana from his series Donal's Meals in Minutes. Tune into RTÉ One at 8:30pm every Tuesday.
Ingredients
Serves: 2
Cooking time: 30 minutes
For the pork:
1 tbsp olive oil
½ pork fillet
6 sage leaves
6 slices prosciutto
25g plain flour
Sea salt and black pepper

For the green beans:
1 gloves garlic, minced
75g cherry tomatoes, halved
125g French beans
50ml white wine
Method
Thinly slice 6 even slices from the pork fillet diagonally. Lay each slice flat on a chopping board and gently bash with a meat hammer or rolling pin until approximately 5mm in thickness.
Top each slice with a sage leaf, season with salt and black pepper and wrap with a slice of prosciutto.
Place the flour in a wide dish and dredge each slice until completely coated, patting off any excess.
Heat a large frying pan over a medium heat and add 1 tbsp oil. Cook the slices for 2 minutes on each side or until the pork has cooked through and the prosciutto becomes crispy.
Add the garlic in the pan for a minute or so before adding the cherry tomatoes, green beans and white wine and cook for 4-5 minutes until the beans are tender. You may need to add a splash of water to bring things together.
Serve slices of the saltimbocca with the green beans and tuck in.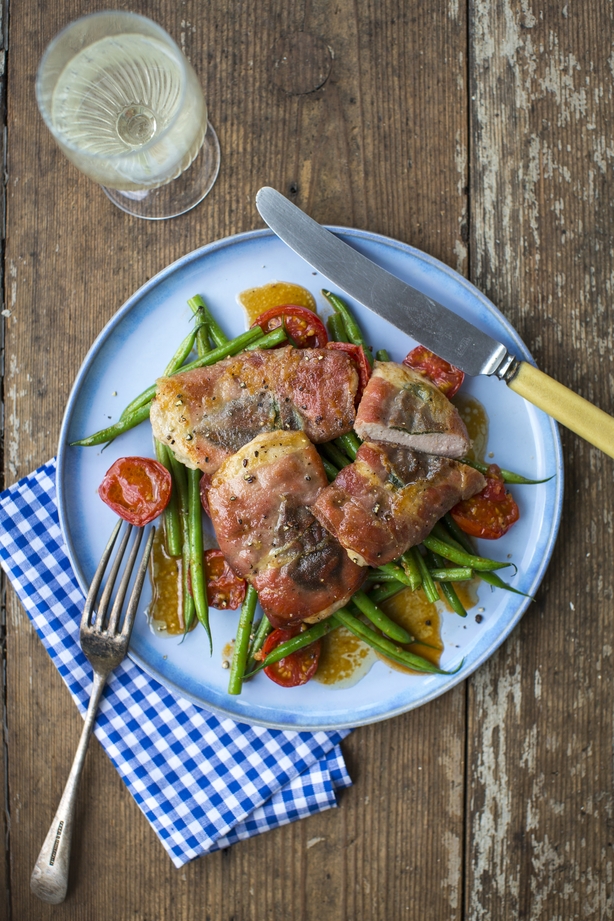 Nutri-facts
Per serving; 405kcal (calories), 20g Fat, 6g Sat, 13g carbohydrate, 3g Fibre, 40g Protein
- Very high protein (coming from pork and parma ham) and the pork is also high in Thiamin, a B Vitamin.
- Thiamin is necessary for healthy skin, hair, muscles and brains!
Nutri-tips
- Many shop hams have preservatives like nitrates added but not parma ham. - It's salted by hand to preserve.
- This recipe will help you practice some technical steps and boost your confidence in cooking
- Bashing gets rid of the days tension!
SPOTLIGHT FOODS IN THIS RECIPE
Green beans
A medium portion (90g) has only 22 calories and basically no fat.
A portion is a source of vitamin C – which acts as an antioxidant and we need it for collagen formation for gum, teeth and skin.
A portion provides 11% of the GDA for fibre – which we need for a healthy digestive system, management of cholesterol and it also helps fill us up. In fact, all vegetables are great for those of us watching our weight due to their fibre and water content.
Donal's Meals in Minutes is sponsored by Spar