In his brand new series, 'Donal Skehan's Meals in Minutes', Irish chef Donal shows us how to make some one pot wonders including this one pan pasta with cherry tomatoes, spinach, garlic and cloves.
Ingredients
Cooking time: 15mins
Serves 2
200g spaghetti
200g cherry tomatoes, sliced in half
50g baby spinach leaves
1 small onion, finely sliced
3 cloves garlic, finely sliced
1 red chilli, finely chopped
A small handful of basil leaves, roughly chopped
2 tbsp extra virgin olive oil
600ml Vegetable stock or water
50g pecorino cheese, grated
Sea salt and ground black pepper
Method
Arrange the tomatoes, spinach, onion, garlic, and chilli across the base of a large frying pan.
Nestle the spaghetti in the centre of the pan and pour in the olive oil and water or veg stock.
Place the pan over a medium-high heat and bring the contents of the pan to the boil.
Using tongs, stir the pasta regularly and cook for about 9 minutes until it's cooked and the liquid has nearly evaporated creating a sauce.
Remove the pan from heat and stir in the pecorino cheese and basil. Season with sea salt and ground black pepper to serve.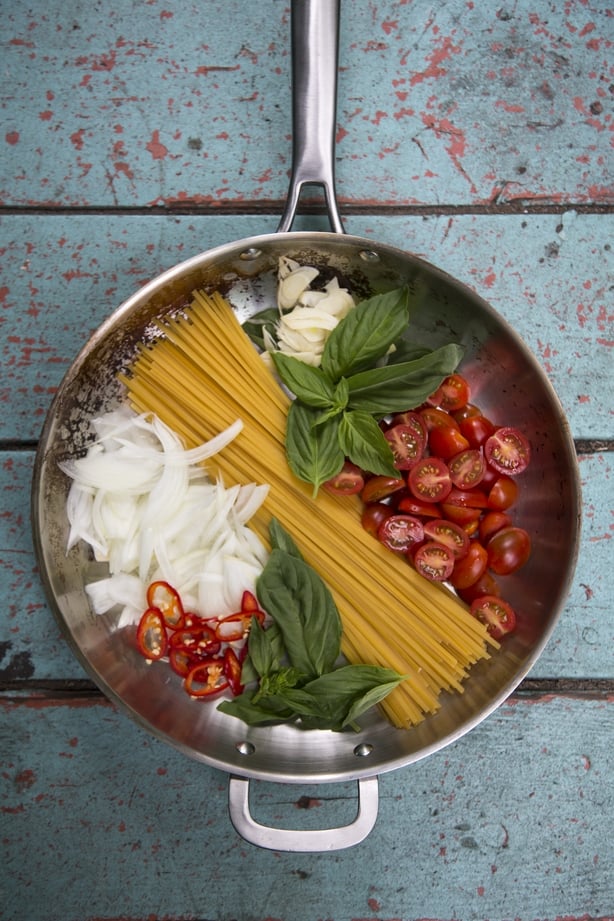 Nutri-facts
Per serving ; 604kcal (calories), 23g Fat, 7g Sat, 76g carbohydrate, 7g Fibre, 24g Protein
- Great source of Calcium (from Pecorino cheese and spinach).
- Calcium helps build and protect strong bones.
- Great source of Phosphorous.
- Phosphorous is a mineral that helps convert food into energy.
Nutri-tips
- Nutrients from veg are not chucked out. They are captured in this one pot recipe.
- Very little cleaning up yippee.
-The protein in this dish comes primarily from the cheese and a little goes a long way. Great for vegetarians but not suitable for vegan.
- This dish is well balanced and is high in fibre (so its filling) and a good source of protein( so its satisfying).
SPOTLIGHT FOODS IN THIS RECIPE
Spinach
An average serving of spinach (90g) has only 23 calories and less than 1g of fat.
It is high in vitamin C – needed for collagen formation, nervous system and immune system.
It is high in vitamin A – needed for normal iron metabolism, maintenance of normal skin and normal vision and for the immune system.
It is high in folate – which we need for normal blood formation, the immune system and for the reduction of tiredness and fatigue.

Chilli peppers
Contain a substance called capsaicin, which gives peppers their characteristic pungency. This is what gives it the wow factor producing mild to intense spice for those who like it hot! Capsaicin is a potent inhibitor of a neuropeptide associated with inflammatory processes. The hotter the chilli pepper, the more capsaicin it contains. Beware…remove the seeds if you don't like things too hot! Use Chilli so you can reduce the salt or cut it out altogether to help keep your blood pressure healthy.
Watch the full show here
Donal's Meals in Minutes is sponsored by Spar