Every Monday on Today with Maura and Dáithí, Neven Maguire will focus on food for mums-to-be and kiddies. This week we're looking at his Chicken and Sweetcorn risotto for weaning children.
Ingredients
1 tbsp olive oil
1 small onion, finely chopped
1 large skinless chicken breast fillet, cut into small cubes (about 200g)
600ml homemade vegetable or chicken stock
100g Arborio rice (risotto rice)
75g fresh or frozen sweetcorn kernels
50g mild Cheddar cheese, grated
2 tsp finely chopped fresh flat-leaf parsley
Method
Weaning is the introduction of solid food into a baby's diet during the first year of life. During this process, the baby will progress from breast - or formula milk only to a fully mixed diet with foods of different textures and tastes. The goal of the weaning process is that by one year of age, a baby will be eating modified family foods, i.e. foods with no added gravy, sauces, or salt.
We need your consent to load this rte-player contentWe use rte-player to manage extra content that can set cookies on your device and collect data about your activity. Please review their details and accept them to load the content.Manage Preferences

By 6 months of age, a baby's stores of nutrients such as iron zinc and some fat soluble vitamins (A and D) are decreasing, and nutritional requirements are increasing. At this stage, neither human breast milk nor infant formula milk intake alone are sufficient to meet a baby's nutritional needs. Therefore, to support continued growth and development, the introduction of solid foods to the diet is essential.
The ideal weaning recipe would be one that is suitable for stage 2 of weaning (6 – 9 months) that can be adapted for the whole family.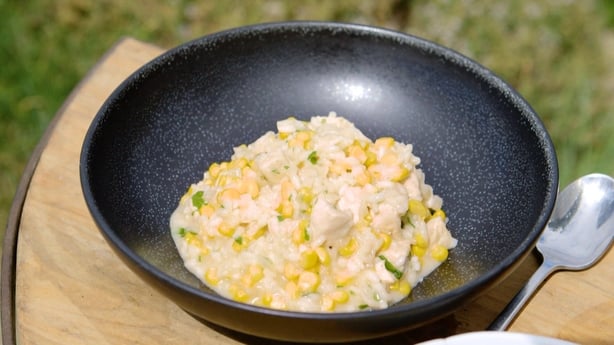 Heat the oil in a sauté pan over a medium heat. Add the onion and sauté for about 5 minutes, until soft. Add the chicken and cook for 3–4 minutes, until lightly browned.
Heat the stock in a separate saucepan. Stir the rice into the chicken and continue to cook for 1 minute, stirring.
Add a ladleful of the hot stock, stirring until absorbed. Keep adding ladlefuls of the stock, stirring continuously until each ladleful is absorbed. The rice will be cooked in approximately 20–25 minutes.
Meanwhile, cook the sweetcorn in a saucepan of freshly boiled water over a medium heat for 4–6 minutes, until tender, then drain and set aside until needed.
When the risotto is just cooked, stir in the sweetcorn and Cheddar cheese with the parsley.
Purée the chicken and sweetcorn risotto with a hand blender or in a food processor until it's the desired consistency for your baby.
Use as required or leave to cool and freeze it in small containers, then defrost and reheat as necessary.