Tomorrow is World Egg Day! We're celebrating this eggscellent day with puns and recipes galore! Give this eggs-traordinary breakfast enchilada a go and let us know how you get on!
Ingredients:
4 Flour tortillas
6 Golden Irish eggs
50ml milk
Salt & pepper
100g chopped ham
2 spring onions, chopped
1 tablespoon of oil
Sauce:
15g butter
15g plain flour
300ml milk
50g-75g of cheddar cheese, grated
Salt & pepper
Toppings:
2 spring onions, sliced
1 ripe avocado, chopped
8-10 cherry tomatoes, halved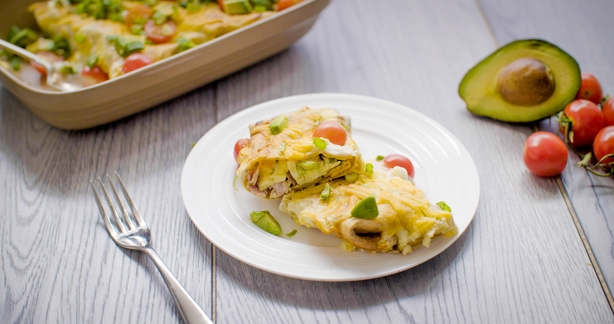 Method:
Preheat the oven to 180c/350f/mk4
Whisk the eggs with the milk and season well. Heat a tablespoon of oil in a non-stick pan and pour in egg mixture, cook until just set.
Fold in the chopped ham and scallions and stir to make a scrambled consistency, then set aside.
Melt the butter in a saucepan and add the flour and cook for 1-2 minutes.
Remove from the heat and gradually whisk in the milk. Place back on the heat and bring slowly to the boil, stirring continuously, until thickened.
Reduce the heat to low and allow to bubble gently for 5 minutes to cook out the flour.
Add in half the grated cheese, take the pan off the heat and stir until thecheese has melted. Season with pepper and a little salt, if needed.
Place the tortillas on a board and divide the egg mixture between them.
Spread half the cheese sauce on the base of a greased baking dish large enough to hold the tortillas.
Roll up the tortillas and place into the dish seam side down. Pour over the rest of the cheese sauce and sprinkle with the remaining grated cheese.
Bake for 20-25 minutes until the sauce is bubbling and the tortillas are golden.
Scatter over the toppings and serve.
Note:
Turkey rashers can be used instead of ham with great results. Roughly mashed kidney beans or re-fried beans mixed with the egg are great for extra protein and will add texture.
*Courtesy of Golden Irish Eggs