Neven's Food Trails: The Basque Country airs every Thursday on RTÉ One at 7pm. Check out the recipe for Neven's Buffalo chicken wings with blue cheese dip here!
Ingredients
1.3kg (3lb) chicken wings
groundnut oil, for deep-frying
75g (3oz) cornflour
1 tsp celery salt
1 tsp garlic powder
1 tsp cayenne pepper

Blue Cheese Dip:

100g (4oz) blue cheese, crumbled
4 tbsp mayonnaise (homemade or shop-bought)
4 tbsp sour cream
4 tbsp buttermilk
1 tbsp lemon juice
1 tsp chopped fresh flat-leaf parsley

Sauce:

120ml (4fl oz) hot pepper sauce (such as Frank's)
1 tsp celery salt
1 tsp garlic powder
½ tsp cayenne pepper (optional)
50g (2oz) butter, melted
2 tbsp apple cider vinegar
4 celery sticks, trimmed and cut into thin sticks
Method
These American-style crisp chicken pieces are the perfect laid-back party food to share and they're great for a movie night. It's the seductively high ratio of skin to meat that makes these wings taste so good, but there are two key steps that ensure extra-crisp wings: letting them sit at room temperature evens the cooking time, and a quick dredge in the seasoned cornflour, plus a few extra minutes in the fryer so that they're really golden brown, transforms into a crunchy coating when fried.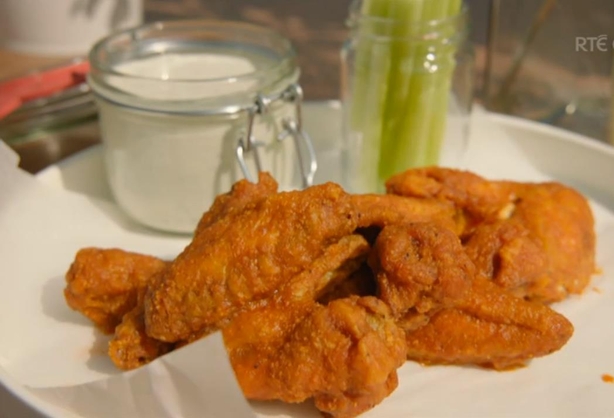 Using a sharp knife, discard the wing tip and keep the little drum and wingette together. Leave to sit at room temperature for 30 minutes to take the chill off them and help them to cook evenly.
To make the blue cheese dip, blend all the ingredients together except the parsley in a bowl with a hand blender, then stir in the parsley and season to taste. Cover with cling film, then chill until needed. This can be made up to 2 days in advance.
Heat the oil in a deep-fat fryer to 190°C (375°F) and put the oven on a low heat.
Place the cornflour in a bowl with the celery salt, garlic powder and cayenne pepper. Mix well to combine, then use to coat the chicken wings, shaking off any excess. Deep-fry the chicken wings in batches for 10–12 minutes, until very crisp and golden brown. Transfer to a wire rack set inside a rimmed baking sheet and keep warm in the oven while you cook the remainder.
To make the sauce, mix the hot sauce with the celery salt, garlic powder and cayenne, if using, then stir in the melted butter and vinegar. Pour the sauce into a small pan and allow to just warm through.
Once all the chicken wings are cooked, toss them in enough of the warmed sauce to coat, allowing any excess to drain off. Serve at once piled high in a bowl with the blue cheese dip and the celery sticks alongside. Have plenty of napkins for those sticky fingers!
Have you tried making these chicken wings yet? Send us your photos on Twitter and Instagram!