Alix Gardner's Cookery School shares their recipe for gluten-free hazelnut and ricotta cake. Yum!
Ingredients:
150 g butter
210 g caster sugar
6 eggs separated
2 tablespoons rice flour
pinch xanthan gum
210 g ricotta
210 g hazelnuts ground
3 teaspoons lemon zest (about 1 lemon)
250g cream cheese
1 dst. castor sugar
Decoration:
Dried edible flowers i.e. Roses, Cornflowers
Fresh edible flowers ie. Borage, Nasturtiums, Roses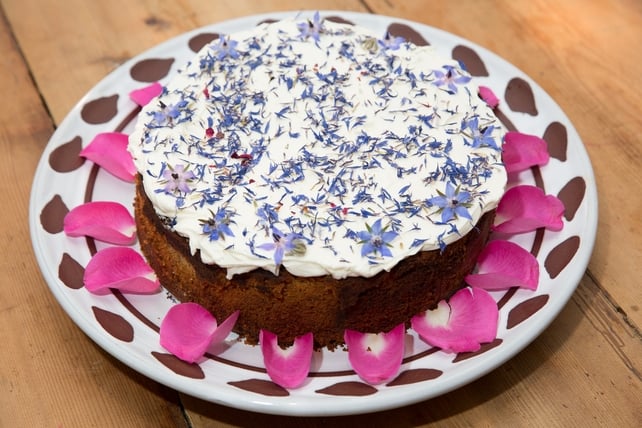 Method:
Heat the oven to 180º c.
Grease a 23 cm cake tin.
Cream together the butter and half the sugar.
Add in the egg yolks, hazelnuts, ricotta cheese and lemon zest, stir well.  Fold in the flour.
Whisk the egg whites until stiff, beat in the remainder of the sugar, and fold into the cake mixture very carefully.
Pour into the cake tin and bake for 35 to 40 minutes.
Allow to cool.
Place cream cheese in a bowl and stir till soft carefully fold in sifted icing sugar
Note: If you over fold the cream cheese it will become too soft.
To Decorate:
Cover the top of the cake with cream cheese and sprinkle dried edible flowers on top.
Place fresh flowers around the base of the cake.