Lynda Booth from the Dublin Cookery School shows us how to make Mediterranean Meatballs with Piquillo Pepper Sauce and Cucumber Salad.
Ingredients for the meatballs:
250g pork mince
250g beef mince
3/4 red pepper, very finely chopped (or use a combination of red, yellow and green pepper)
¼ tsp chilli flakes
1 tsp sweet paprika
¼ tsp grated nutmeg
100g feta, crumbled
50g fresh breadcrumbs
1 egg
1 clove of garlic, minced
1 small shallot, finely chopped
small bunch of parsley, finely chopped
½ tsp lemon juice
Salt and pepper
Ingredients for the piquillo sauce:
200g tinned piquillo peppers or roasted peppers from a jar
50g greek yoghurt
pinch of salt
For the salad
½ cucumber
8 cherry tomatoes
few mint leaves
a few black olives (optional)
extra virgin olive oil
pinch of salt
lemon juice, to taste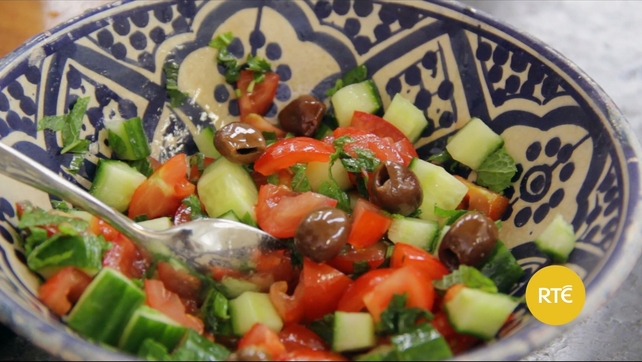 Method for the meatballs:
Mix all your ingredients in a large bowl. Heat up some oil in a small frying pan and cook a tiny amount of your mixture to check the seasoning. Adjust the seasoning as necessary.
Shape the mix into small meatballs and fry, browning the meatballs on each side.
If necessary, you can finish the cooking process in the oven.
Method for the piquillo sauce:
Put the ingredients into a food processor and blitz until finely chopped.
Add the yoghurt and blitz again. Season with a pinch of salt.
For the salad:
Chop the cucumber and the cherry tomatoes into small dice and place in a bowl.
Chop the mint leaves roughly and add to the bowl along with the olives (if using).
Season with salt, drizzle with some extra virgin olive oil and a squeeze of lemon juice.
Serve the meatballs with the piquillo pepper sauce and the cucumber salad on the side.
The video has been produced in partnership with Lynda Booth's Dublin Cookery School in Blackrock using one of their own recipes. The school was named 'Best Cookery School in Ireland' in 2013 & 2015 (Irish Restaurant Awards). For further information, click here! Follow Dublin Cookery School on Facebook, Twitter and Instagram!