Asian Salmon Cakes with wasabi mayonnaise and cucumber pickle from Lynda Booth and the Dublin Cookery School. These look absolutely amazing!
Ingredients for the wasabi mayonnaise:
½ cup mayonnaise (or see recipe overleaf)
1 tsp wasabi paste or horseradish
1 tsp lime juice (or to taste)
Ingredients for the salmon cakes:
350g salmon, skinned and chopped into 1cm dice
zest of 1 lime
2 tsp lime juice
1 stalk lemongrass
2 kaffir lime leaves
1 fresh red chilli, deseeded and finely chopped
1 spring onion, finely chopped
2 tsps fish sauce
1 or 2 tbsp cornflour
2 tbsp rice flour
1 egg white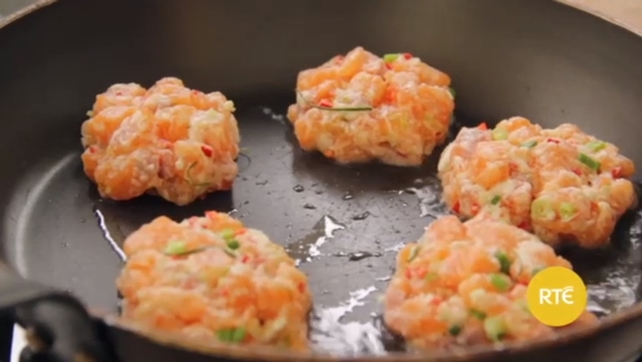 Method for the wasabi mayonnaise:
Mix all the ingredients together. Adjust seasoning to taste.
For the salmon cakes:
Remove 3cm from the top of the lemongrass stalk and 1cm from the root end.
Remove the two outer sheaths from the lemongrass and discard.
Chop the remaining lemongrass very very finely. Chop the kaffir lime leaves into the finest strips possible.
Place the salmon in a bowl and season lightly with salt. Add all the other ingredients, except the egg white.
Beat the egg white very lightly with a fork just to break it up and add a little egg white to the salmon mix. Mix to combine.
If the mixture ends up being too wet, add a little more cornflour and rice flour. Divide into 6 equal portions and form each one into patties.
Heat up some vegetable oil in a frying pan. Place the salmon cakes in the pan and cook for 2-3 minutes on each side.
Serve with lime wedges, the wasabi mayonnaise and tossed salad leaves if desired.
Tip: You may replace the mayonnaise with half crème fraiche, half mayonnaise if you wish.

The video has been produced in partnership with Lynda Booth's Dublin Cookery School in Blackrock using one of their own recipes. The school was named 'Best Cookery School in Ireland' in 2013 & 2015 (Irish Restaurant Awards). For further information, click here. Follow Dublin Cookery School on Facebook ,Twitter and Instagram!