What's not to love about these French little beauties? Simple ingredients but as with many things in life, it's what you do with them that matters!
Ingredients
160g butter, plus extra melted for greasing
50g plain flour, plus extra for dusting
5 egg whites, at room temperature
160g icing sugar
70g ground almonds
Method
Lightly grease madeleine tins with melted butter, then dust with flour, shaking off any excess.
Place in the fridge for at least 2 hours, but overnight is best. 
Preheat the oven to 190°C. 
Place the butter in a small pan and allow to brown slightly. Remove from the heat and leave to cool.  
Sift the flour into a large bowl. Add the egg whites, icing sugar, ground almonds. Using an electric mixer, beat until well combined and smooth.
Slowly add the melted brown butter and slowly mix for 5 minutes, until smooth and thickened. 
Spoon the mixture into the prepared tin so that it's about level with the tops, leaving a little room for rising, and sprinkle over the toasted hazelnuts.
Bake for 10-12 minutes, until well risen, golden and springy to the touch.
Remove from the oven and leave to rest in the tin for 2 minutes, then ease out of the tins with a palette knife and leave to cool slightly on a wire rack.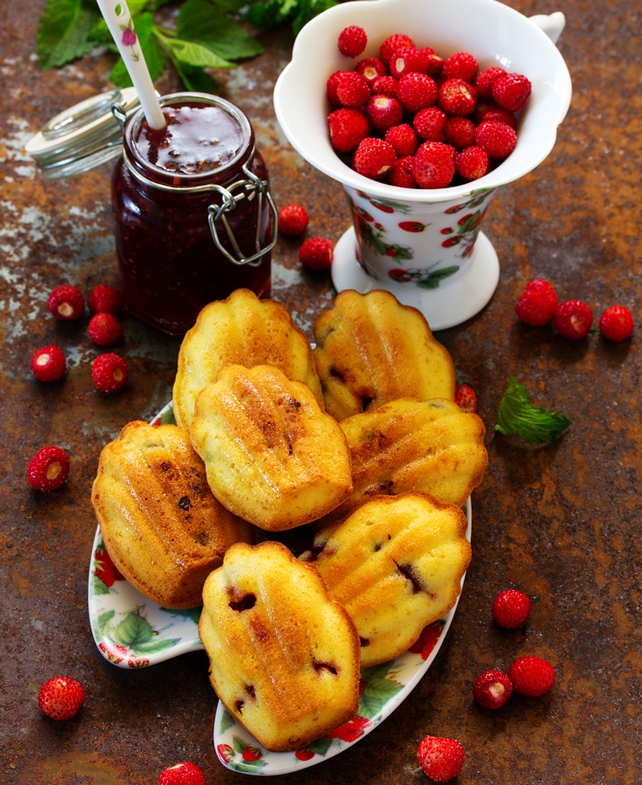 ---
To serve:
Arrange on plates and enjoy with coffee or a cup of tea.
Cook ahead:
Madeleines don't keep particularly well so are best on the day that they are made, but the raw mixture will keep well in the fridge for 1 week, so you can make them as you need them. The tins are also best prepared 24 hours in advance and kept in the fridge until needed.