My second child, another little girl, was born in January - nearly two weeks after her due date. Coming to the end of the pregnancy, I was exhausted and hadn't expected to give birth to a baby over 9lb's! But I did and now she is already starting to outgrow her '3 to 6 months' clothes - and we have piles of them.
We received so many thoughtful gifts that it meant she had a different outfit almost every day. We also purchased some bits ourselves which have already been passed on.
With that in mind, I wanted to make a list of gifts that I found to be the most useful and inclusive - so many people thought of our eldest too when buying the littlest a gift!
Accessories
Bubba Baby Cover
These covers can be used for breastfeeding, car seats and trolleys. We use our one daily to cover the little one as we dash about the shops when she's in her car-seat.
It means that the eldest doesn't always annoy her, and with the recent cold weather, we knew she was protected. Laura hand-makes every single one of them here in Ireland and is a pleasure to chat with - we even had ours monogrammed!
Goose and Gander
Goose and Gander offer handmade leather Moccasins, T-Bars, Sandals and Boots for the little ones. They also stock leather soother clips which come in a variety of colours and are very useful.
We've got both kiddies the pink and white ones so we can match it up. For the fashion lover who loves their shoes, the LouBou Teeny are a big seller - the leopard print with the red sole is amazing, and they are so easy to pop on to feet as they get more active. We will be getting a pair of sandals for our holiday next month for sure.
Twinning
Moobles and Toobles Personalised Sets
This is one for the twinning of kids. I bought lovely matching pyjama's for Christmas as my due date was Christmas Eve, but the baby decided it wasn't to be!
On Moobles and Toobles you can personalise matching sets with the initials of the children. From rompers to t-shirts, you decide what letter you want and Nadia will print it in your choice of colour.
While you're there, you may as well look at all her other stuff too - you'll want it all. She sells some lovely gift sets with everything that you could need for the first trip home from the hospital!
Little Beauties Ireland
Whether it's a 'Big Sister' or 'Big Brother' top you're after, here's one great place to get it. You can obviously get a little sister/brother top too.
We all know how proud the big ones are when showing off the latest addition to the family and this is one way of including all the kids.
Gift Boxes
What do you get someone who is going on Maternity leave? Is there something unique you can get that the parents-to-be may not think of buying? This is where these shops come in very handy.
Abosca.ie
These hampers are the perfect gift for someone who is going off on maternity leave as you can never have enough wipes, creams or shampoos for babies.
My personal favourite is the 6+ [months] box or the weaning box because, that way, you can help prepare for the future. As weaning creeps up on you before you know it.
Drop Laura a message and she'll be happy to help you out - and she's now offering personalised bibs too.
TheStorkBox.ie
There is a wide range of items available here, but the gift boxes stand out for us, particularly the Playtime Baby Gift Boxes that feature a cute playmat.
Everything is pretty much gender neutral and there are even Twin Gift Sets available. Perfect if you're unsure what the baby is going to be.
For the Parents
YoungHearts.ie
Sometimes we all need a little reminder that we are doing a good job, and the 'Affirmation Cards' are that perfect little pick me up. You can get some for when they are mums-to-be or for after the birth - as we all have those days of 'am I doing a good job?'
YoungHearts also stock Milestone Cards and an amazing range of Changing Bags as well as a lovely curated selection of clothes, so if the cards aren't what you're after, you should be able to find something else for the mother-to-be (or baby!).
ChaosandHarmony.ie
Roisin stocks a wide range of goodies that are also for the parents. The 'Alphabet Bags' range for both the mother and father is perfect if you're looking for something different.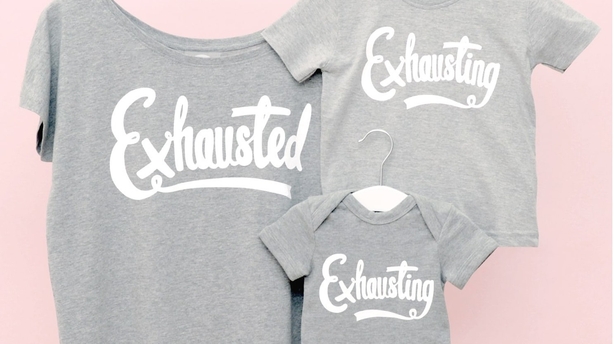 The 'Exhausted' T-shirt is available for the mother and father with a match saying 'Exhausting' for the kids. Perfect for those first few months and...later on in life too! ;)