I am the most un-artistic person you could ever meet - I can barely draw stick figures, so that's saying something! I stick to the same routine for my own 'face-paint' every day and never try anything different, but when it comes to face-painting on kids I'm all over it thanks to these tricks.
Halloween and mid term is upon us, so that means parties and dressing up, and with the dressing up comes face-painting.
When it comes to face-painting on kids there are some simple rules to follow (in my opinion) as they tend to be quite squirmy and rarely sit still.
The steps:
First up, stick on RTEjr, this should keep their eyes focused on something.
Second, make sure you have a good kit - the Snazaroo Face Paint Kits such as the Fantasy themed or Halloween themed kit are staples in our home.
Fiesta & Carnival Face Painting Kit and Smiffys Cat Makeup Kit all look good options too. The one I buy all come with the basic colours that will you be using from black and white to pink and light green.
For me, I've usually got about 3 different sets to ensure I've got all bases covered because as I said before, kids are squirmy and keep changing their minds! Make sure you also have some good quality brushes as well in varying thickness to help you get the right lines.
Third, google!
There are so many tutorials and pictures online to help guide you, so make sure you save those pictures and use them to do outlines. You will obviously have already picked your character and from there you can put your own stamp on it by mixing up colours, adding little extra lines or ideas to your creation.
The results:

CAT
The easiest face to paint I've found to be a cat.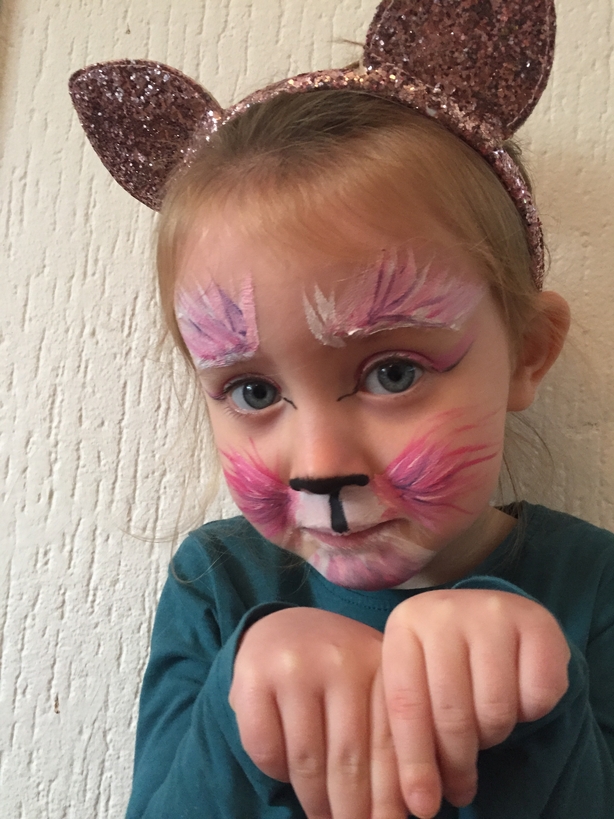 As you see from the picture, it's just about mixing the colours. You just use gentle brush strokes with plenty of paint on them. And add layers of paint, keeping in mind the brush strokes need to remind you of hair. It doesn't involve a huge amount of paint on the face - just the eyebrows, nose, upper lip and chin with the whiskers on the cheeks.
Second up are any faces using a base of one colour- be it red, green, white or orange - these can include, clowns, witches, skeletons, Dracula, Frankenstein, devils and pumpkins. Having a one colour base gives you the freedom to mix it up and get creative!
Getting the full coverage of the colour on the face tends to be the trickiest bit but using a make-up sponge tends to work really well! From here, you can then add teeth, 'blood' and warts to your heart's content.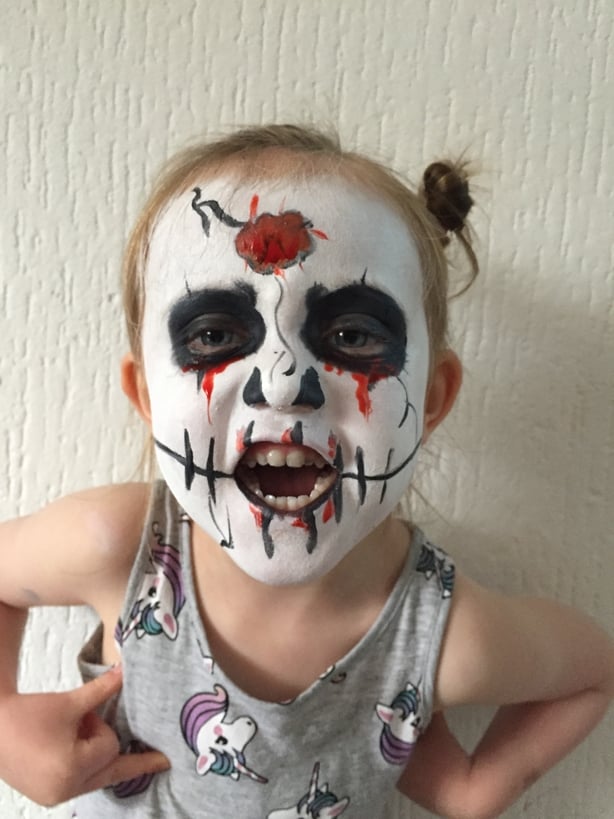 SKELETON
When doing a skeleton, make sure you have an idea of what type of skeleton look you are going for, and be mindful of their eyes - my toddler hates having any colours too close to her eyes!
We tend to add a brain to our skeletons to match the tops she usually wears which have a heart - so why not a brain too! This is where the creativity comes in and it doesn't need to be perfect - it's going to be dark when the kids are trick or treating, remember that.

ANIMALS
Let's not forget animals - giraffes involve a base of yellow with brown spots! Zebras involve a base of white, add a dash of either red/pink using the sponge that comes with your facepaint, lightly and black stripes.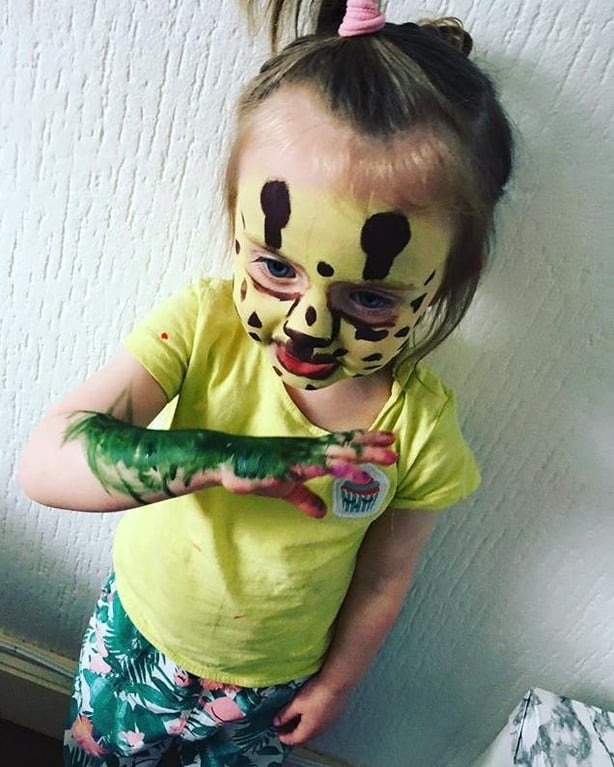 There are heaps of faces to paint on kids depending on what they want to be, so just remember to take your time, and stick on RTEjr to watch to allow you the time to do it and then remind them they'll be trick or treating!!