Over the past few years, woodlands in Ireland have started to reverberate to the staccato, machine-gun rattle of a very welcome newcomer: the Great Spotted Woodpecker.
Though Great Spotted Woodpecker numbers are now growing steadily, the glorious oaklands of Wicklow remain their stronghold. Last year, there were something in the region of 30 nests in the county, and about 10 or so in other counties – there have been recent sightings in Dublin, Louth, Monaghan, Meath, Down, Wexford, Kilkenny and Carlow. 
This beautiful thrush-sized black, white and red bird strikes trees with its bill in the months of March and April – an action known as drumming. It does this to proclaim its territory and to attract mates.
The seconds-long staccato burst can be very loud or quite subtle. It all depends on the tree. At its most clamorous levels, the noise can carry for up to a kilometre.
But it's a sound that may not have been heard in Ireland until about 10 years ago.
Though Great Spotted Woodpeckers are seen in Irish bird records going back hundreds of years, no breeding – and, thus, no evidence of their distinctive drumming – was ever recorded.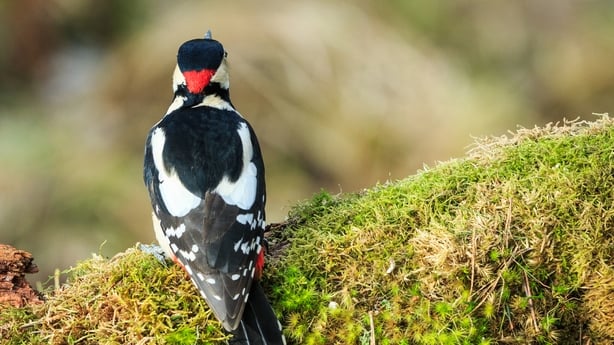 Some Great Spotted Woodpecker bones dated to early Christian times were found in a cave in Co Clare – but most experts argue that these were likely vagrant birds from Scandinavia.
Even in modern times, when the pine crop fails in Scandinavia, there is a big influx of woodpeckers down in to other parts of Europe during the winter. This is called an eruption, and typically happens every five or ten years.
But aside from this kind of seasonal migration, Great Spotted Woodpeckers are a sendentary species.
And DNA samples taken from the birds present in Ireland suggest that the cohort that has established itself here is of Welsh and British origin, with one theory being that the species reached saturation point in Wales and needed new places to breed. 
The re-emergence of life in Irish woodlands in recent years offered them the perfect environment, considering the birds can survive in a small sand of trees and don't need a big forest.
That's what has led some experts to argue that it's likely that the birds bred in Ireland until the clearances of the late 17th century when the demand for timber was so great that many of the country's forests were felled.
For more, go to the Mooney Goes Wild show on RTÉ Radio 1.