Hybrid and plug-in hybrid cars may not be the longer term preferred option but they do have an interim role.
As we transition to fully-electric motoring we still are uncertain as to how long that transition for will take for many of us. The efficiency of electric cars, their range, the lack of readily available public charging infrastructure and uncertainty about electricity supplies all combine to limit the undoubted enthusiasm a lot of new car buyers feel when deciding to make the change.
There are clearly many people whose needs can be met by current electric cars on the market but there are many others who don't see electric cars as a viable option, especially is they have longer journeys to make.
In the meantime we have hybrid and plug-in options, whose manufacturers tempt us with the fact that their cars can run on electricity for some of the time but also have a petrol engine to fall back on, thus eliminating range anxiety.
However, government policy is that as long as a car has an internal combustion engine then it is not as clean as an all-electric car and there is also a view that continuing to provide cars with such engines retards the move to clean electric.
Which brings us back to the length of the transition period. Right now, hybrids do at least allow us to use less fuel, especially in city traffic conditions.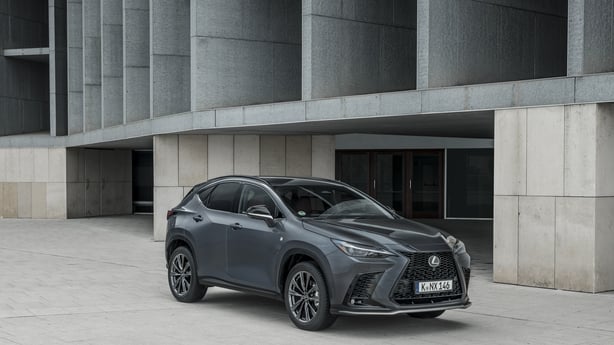 The Lexus NX is a case in point. As a non-fully-electric luxury SUV it comes with a plug-in compromise that will allow you to drive in electric mode for about 50 km or so. Many urban journeys and commutes are far less than that and if your main driving commitments are within that range then you essentially won't be using a great deal of petrol. When you have exhausted that range you'll be using a 2.5 litre petrol engine, which is efficient enough to return about 6 litres of fuel for 100 km driven.
The NX is a really well designed car, with crisp and sculpted lines wrapping the exterior, which has a nuanced slope to it.
Two things that impress me most about it, however, are the fact that it is so well finished inside and that it has a very reassuring pedigree for reliability, unlike a number of its competitors. In the 2022 What Car ? reliability survey, Lexus as a manufacturer comes in at first place out of 32. You can also add in lower rates of depreciation because of that reliability record.
Driving it you do feel that Lexus has done everything to smooth out any potential fault lines. It's quiet and luxurious, as it claims to be. The front seats are among the best around and attention to detail is evident everywhere in the interior.
The rear, however, is good for two rather than three.
The NX comes in three guises - the Executive, Premium and F-Sport. The Executive comes in at €63,330 but you won't find any entry level equipment limits.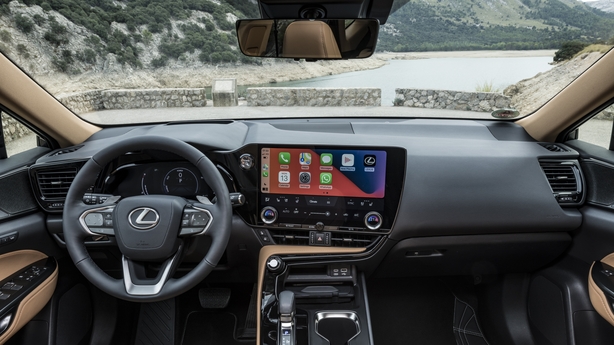 Leather upholstery, active cruise control, a 9.8" infotainment screen, satellite navigation and dual zone automatic air conditioning are accompanied by a suite of safety features that is both generous and reassuring. Among the features are emergency braking, 14 airbags, lane-keep assistance and other accident avoidance equipment. You'll also get a maximum 5 star EuroNCAP rating.
The automatic gearbox is a CVT system that allows for the automatic selection of infinite gearing using a belt system and it isn't everyone's cup of tea. As with all other CVT systems you will often detect a revving of the engine before accelerating and there is a lurching when you push the car hard, such as when overtaking. It's something you tend to adapt to but it's not the driving experience you get in a comparable Audi or BMW.
Personally, I find when driving hybrids and electric cars that I'm more inclined to adjust my driving style to try to achieve maximum fuel or battery consumption. I'm more inclined to challenge myself rather than the car.
On that basis, the NX is a better city car than a long-distance motorway one, when you will most likely to be running on petrol alone. I did, however, particularly like the car's ability to surprise me by switching into electric mode at times and at speeds I didn't expect it to - on secondary roads, for example.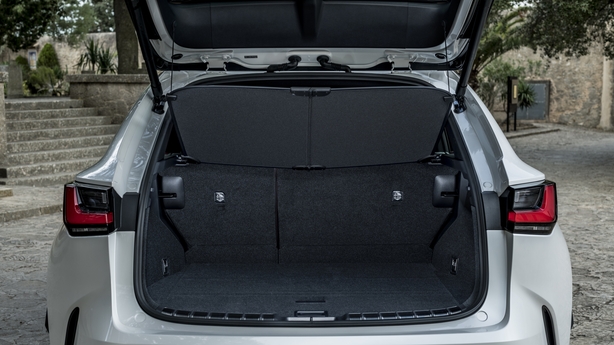 The NX has a generous 545 litres of boot space, which is enough to accommodate biggish luggage and the usual suburban loads. You will get a whole lot space more by flattening the rear seats when you'll have over 1400 litres. I like the fact that boot space isn't taken up with the cables you need for charging - they fit neatly and out of the way in the underfloor storage area. The tailgate is also powered for ease of use.
Despite Lexus having a superb reliability record, its warranty is still a three year 100,000 km one while you can get a seven year warranty with a Kia. It's surprising.
As a comfort package, the NX has a lot to commend it and the extra height is a welcome feature - not just because it affords a commanding view but also because of ease of entry and egress. It's luxury qualities are also its best ones.