Kia's new Niro EV may not have greatly improved on range but its battery efficiency is very impressive. It also has some other very strong selling points.
This is the second generation Niro EV and there had been an air of expectation that it would deliver much greater range than the car it replaces. It doesn't. What it does do is deliver a range that is closer to what you're told to expect and it does so very efficiently.
Given the number of factors that come into play with electric cars few of them manage to get near what manufacturers claim is possible. Cold weather, motorway driving, the use of heating, air conditioning and lights all draw from the battery's available capacity. You can easily see a charge draining away more quickly than you'd expect.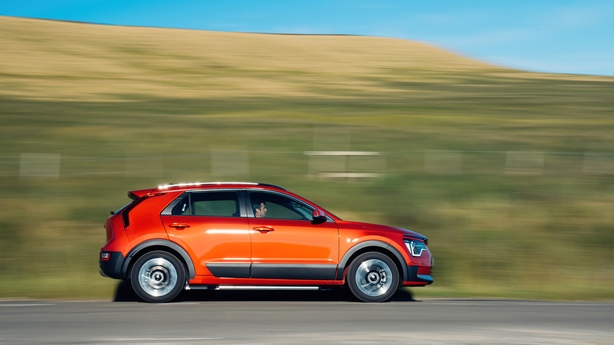 In the case of the Niro, my available range was about 366 km and, despite a good deal of motorway driving and the use of radio and media, lights and so on the energy consumption closely matched the available range. So, after about 220 kilometres my available range was within 2 kilometres of the mileage travelled. It's something many other cars don't manage and it's a strong factor in reducing range anxiety. I never felt I was going to get caught out by a rapidly diminishing charge. Given my experience with other EV's, it was a pretty unique and strong selling point.
Its price was another strong selling point. The basic K3 version costs €41,775, while the K4 version costs €44,990 - both after grants.
I also liked the Niro package. The styling may not be radical but it is enough to allow the car to stand out from the crowd. It draws much of its form and structure from the bigger Kia EV 6 - a car that really is quite radical and fun to drive.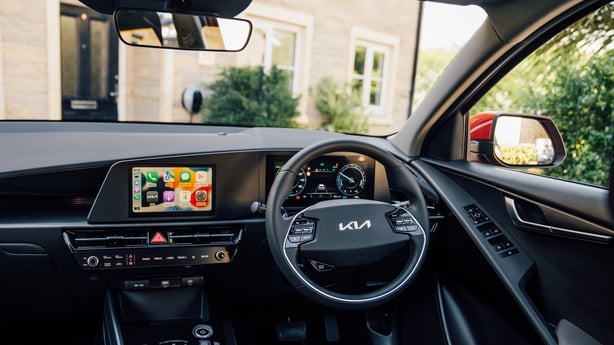 This is especially true for the interior. All versions get the 10.5" infotainment screen and the logical digital instrument display. The overall feel is also very much that of the EV 6. It's a clever use of technology and materials from a bigger car.
Seats are very comfortable and you can have lumbar support and faux leather in the slightly more expensive K model.
The car can take four adults in comfort and it's a strong family offering because of the slight increase in height, width and length compared to the older model. It has little extras such as easily accessible USB points and a 12 v socket in the boot.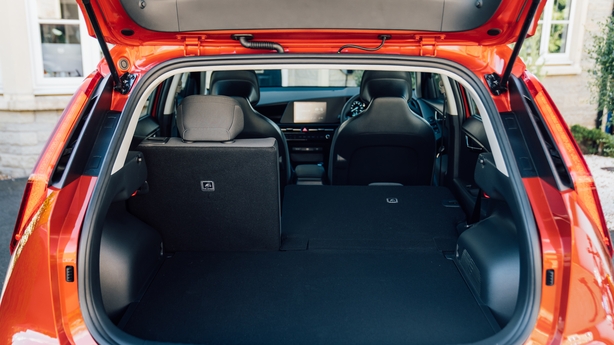 The boot, incidentally, has a 475 litre capity that can be greatly increased by dropping the rear seats. It's not so much class-beating as generous and practical.
The battery is a 64.8 kW unit that delivers 201 horse power and makes the car a good sprinter from 0 to 100 KPH. It is not a battery with the fastest charging capacity - getting from 20 to 80 % on a fast charger takes about 40 minutes and will just about avoid the overstay charges now being introduced on public chargers.
Another strong selling point is the generous level of standard equipment. All versions get satellite navigation, DAB radio, several airbags, 18" wheels, electrically folding and heated door mirrors, a pedestrian and cyclist avoidance system, stability control, lane assist, automatic cruise control and hill start assist. And that's not the complete list. Regenerative braking, which creates energy when the car is braking, adds to battery life.
Kia cars also come with a seven-year warranty, or 150,000 kilometres, whichever comes first.
This car did everything required of it without fuss and it was a pleasure to drive. It's very good value and one of the best overall packages around.
It may be a little early to consider it my car of the year but thus far it is.