Mazda may be only seven or eight years away from fully electric, or at least part-electric vehicles, but the relatively small Japanese company appears determined to be a maverick in the meantime.
It has launched its first plug-in electric vehicle, which has been designed to nibble away at the market segment dominated by cars like the Volvo XC 60 and the Audi Q 5
The CX-60 is a large SUV with a 2.5 litre petrol engine and a battery that is supposed to deliver 63 km in all electric mode for commuting. It's also the car Mazda says will allow it to become "an alternative premium brand" and pricing is part of the offering to build what are known as conquest sales from other brands.
In another interesting departure, Mazda has eschewed the current fashion for large display screens and exclusively swipe functions in favour of a 12.3" screen and buttons, regarding big screens as something of a fad and a distraction. I'm not sure what Tesla designers and others would make of that.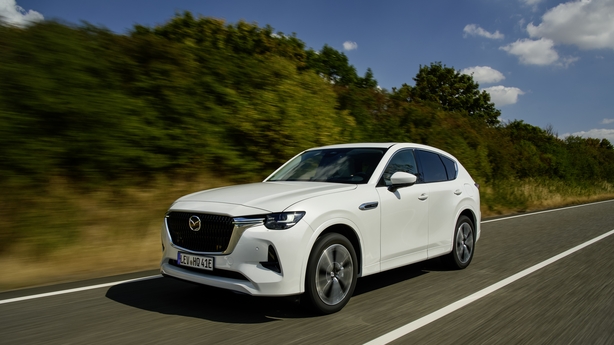 It's a big car and it does represent a design departure for Mazda, subtle though that might be. However, the traditionally conservative profile is being left behind in favour of something more edgy that has crisp lines that refract light.
At €54,100 for the entry level model, it isn't exactly cheap but the pricing is attractive in this segment of the market. You could easily pay another €10,000 for a comparable competitor. Standard kit includes satellite navigation, 18" alloys, a colour display screen, automatic headlights, dual zone air conditioning, blind spot recognition and numerous safety features, including automatic city traffic braking. Another €2,000 on the next version up will get you extras such as leather seats, a heads up display over the dashboard and an automatic tailgate. There are other more expensive model options and packs.
Forgive the pun, but by using real maple wood inside the car and offering real leather seats Mazda is again going against the grain of current trends in the car industry where recycled materials are all the rage.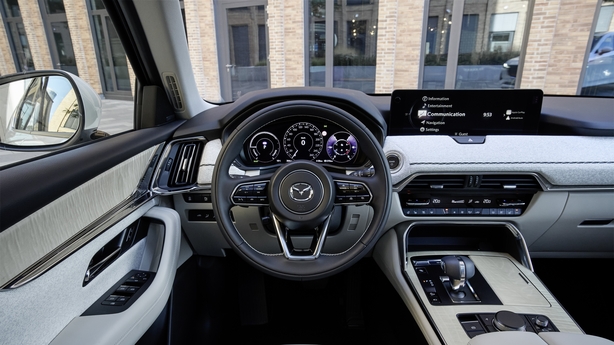 The company's logic with this car, it says, has been to encourage designers and engineers to reduce visual distractions and move away from "cool and flashy experiences", and concentrate instead on a more serene and calm driving experience.
This logic is interesting, particularly when other manufacturers and concentrating more and more on those very experiences. Instead, Mazda is offering alternative smart technology, such as facial recognition that sets the seats and mirrors to your individual profile. On some versions of the CX-60 you can even input your height and the car will automatically adjust these settings for you.
Even though there is no seven-seat option at the moment, the boot of the CX-60 is bigger than that of several competitors. The norm is about 400 litres but the Mazda manages 570 without even having to take the rear seats down.
The car represents a very interesting departure for Mazda but there are no immediate plans to produce a fully-electric version. The company currently has four EV's in the pipeline and another 5 plug-ins.