A coupe version of Skoda's popular SUV, the Enyaq, is due to be unveiled at the end of this month. It will have the same powertrains and equipment as the current Enyaq. It's expected the car will have two battery options - both currently in use in the Volkswagen group. These would be the 58 kWh battery delivering 177 horse power and a claimed range of some 420 kilometres and the 77kWh battery delivering 201 horse power and a claimed range of just over 500 kilometres.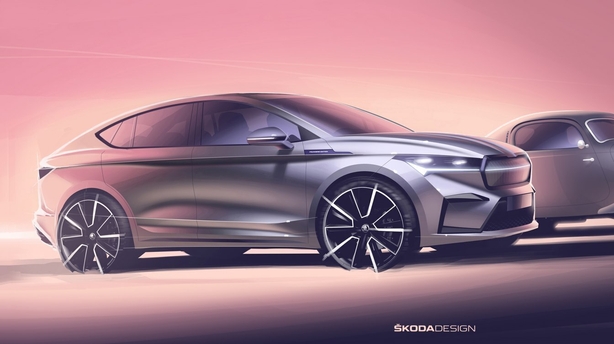 Perhaps the most distinctive feature of the new version is the sloping roofline that gives it its coupe identity and it's a style that you can expect to see a lot more of from other manufacturers in the next couple of years. It's also a style that affects boot capacity to some degree and the Enyaq coupe iV is reported to have about 15 litres less boot capacity than the standard car. However, it still manages a very generous capacity of 570 litres.
Skoda says the coupe will have best in class aerodynamics for improved range.
The front is dominated by a large grille and thin LED headlights. Inside, the car is said to look just like the standard Enyaq with a 13" infotainment screen and a multi-function steering wheel.